The mainstream press is all in a flurry over the idea that President Trump threatened to withhold American foreign aid from Ukraine in order to get the Ukranians to dig up dirt on Joe Biden.  And they insist on continuing to act as if there's any merit to this notion, even after Trump released the transcript of the call, and it has become apparent that it's a giant blob of nothing.  Even in the worst possible scenario from the Democrats' fevered minds, the only thing Trump did was ask the Ukranian President if something Joe Biden admitted to publicly and on camera was, in fact, true.
And the mainstream press has flittered about.  Impeachment this.  Impeachment that.  Acting as if they didn't read the transcript and that the Dems still have a leg to stand on on this thing.  They've done everything except for their job.  Which is to ask the questions and get to the bottom of it.
All the press needs to do is ask Joe Biden the following question:  "Why did you pressure the Ukranian government to fire the attorney?"  Biden will either have a plausible, verifiable answer to this or he won't.  The vague accusations of corruption he has thrown out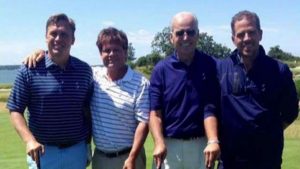 thus far aren't good enough answers to this question – in that they are impossible to verify.  If they want to go after Trump, they need to show us that Biden didn't abuse his authority as Vice President of the United States.  Keep in mind we know the following:
Biden has, on video, in public, said that he had the Ukranian Attorney fired.
The Ukranian Attorney said, in a sworn affidavit, that he was fired for investigating Hunter Biden.
If both of these things are true, then there's a case that Joe Biden is the most corrupt official in the history of the US government.  You'd think that the press would be interested in that.
If, however, Ukrainian Attorney Victor Shokin is lying, we can put this to bed.  But it doesn't look that way.
A deeper question is, could this be the real reason Biden didn't run in 2016?  All this happened in 2016, and Hillary Clinton without a doubt would have torpedoed him with it.  Could this also be a big reason why Barack Obama has refused thus far to speak out on Joe Biden's behalf?  Not even kind words that are short of an endorsement have been forthcoming from the former President.
There are too many questions and not enough answers.