Editor's Note: Ian is sharing his posts with us at MOTW, but you can always read them on his own site, as well (along with some of his other ventures, including podcasts, etc.).
I'm not going to go into all Burns' work, just my favorite. We'll talk about that at the end. While January is generally devoted to Burns, I don't care about being late to that party. Pun intended if you do know about Burns.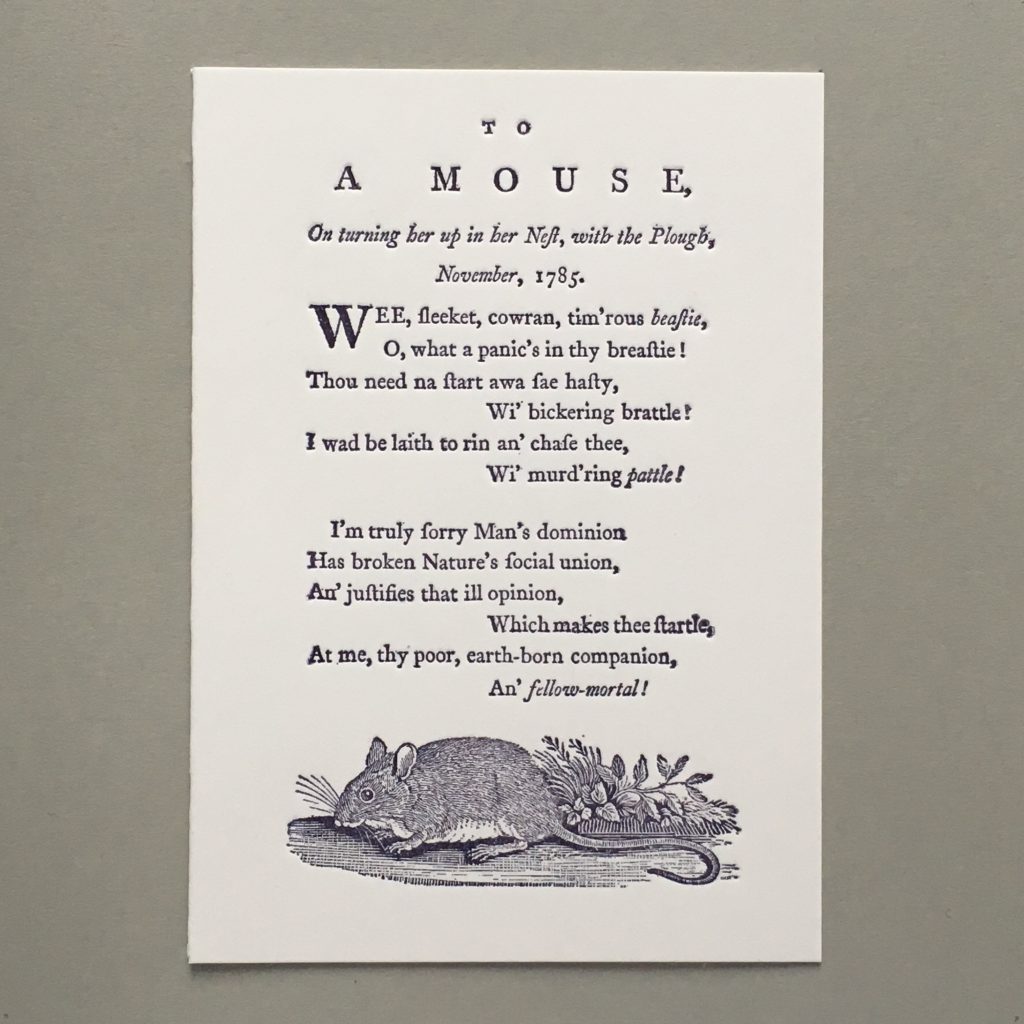 He's probably the most quoted and most famous Scottish poet. Many folks quote Burns without even realizing it's Burns they're quoting, those "the best laid schemes o' mice and men // gang aft agley // an' lea'e us nought but grief an' pain // for promis'd joy."
One of the worst heartbreaks of my youth was when my suddenly-ex-girlfriend wrote in my notebook that line. She wasn't being a bitch. She was really trying to say what Burns was saying. I, being young, took it the wrong way and made the breakup worse. I learned that later. That's neither here nor there–and for reasons that will become important later in this series, being neither here nor there will be important.
There are other lines from that poem that people quote often. But not merely that poem. Burns was an everyman's poet–arguably the best kind of poet–and thus so much of what he wrote entered the vernacular (although typically not in a Scottish brogue, being translated by the English.) He died at only 37, but he left us a significant body of work despite his lifespan.
And yeah, there's a song many of us sing every year. Auld Lang Syne. That's Burns. The funny thing is that we all get the chorus for the song wrong, likely because someone drunkenly misheard it and that became a meme.
G.K. Chesterton wrote in his excellent work Orthodoxy: "The poet only asks to get his head into the heavens. It is the logician who seeks to get the heavens into his head. And it is his head that splits."
Burns was highly intelligent and well-grounded in Scripture and the Classics, and that light shines through his work. But you know this work, even if you don't know it or have ever read it. Dig deeper into it. He was a true master of his art, and at only 37.
To a Mouse
Robert Burns
Wee, sleekit, cowrin, tim'rous beastie,
O, what a pannic's in thy breastie!
Thou need na start awa sae hasty,
Wi' bickering brattle!
I wad be laith to rin an' chase thee,
Wi' murd'ring pattle!
I'm truly sorry man's dominion,
Has broken nature's social union,
An' justifies that ill opinion,
Which makes thee startle
At me, thy poor, earth-born companion,
An' fellow-mortal!
I doubt na, whiles, but thou may thieve;
What then? poor beastie, thou maun live!
A daimen icker in a thrave
'S a sma' request;
I'll get a blessin wi' the lave,
An' never miss't!
Thy wee bit housie, too, in ruin!
It's silly wa's the win's are strewin!
An' naething, now, to big a new ane,
O' foggage green!
An' bleak December's winds ensuin,
Baith snell an' keen!
Thou saw the fields laid bare an' waste,
An' weary winter comin fast,
An' cozie here, beneath the blast,
Thou thought to dwell-
Till crash! the cruel coulter past
Out thro' thy cell.
Thy wee bit heap o' leaves an' stibble,
Has cost thee mony a weary nibble!
Now thou's turn'd out, for a' thy trouble,
But house or hald,
To thole the winter's sleety dribble,
An' cranreuch cauld!
But, Mousie, thou art no thy-lane,
In proving foresight may be vain;
The best-laid schemes o' mice an' men
Gang aft agley,
An' lea'e us nought but grief an' pain,
For promis'd joy!
Still thou art blest, compar'd wi' me
The present only toucheth thee:
But, Och! I backward cast my e'e.
On prospects drear!
An' forward, tho' I canna see,
I guess an' fear!
OR:
Little, cunning, cowering, timorous beast,
Oh, what a panic is in your breast!
You need not start away so hasty
With bickering prattle!
I would be loath to run and chase you,
With murdering paddle!
I'm truly sorry man's dominion
Has broken Nature's social union,
And justifies that ill opinion
Which makes you startle
At me, your poor, earth-born companion
And fellow mortal!
I doubt not, sometimes, that you may steal;
What then? Poor beast, you must live!
An odd ear in twenty-four sheaves
Is a small request;
I will get a blessing with what is left,
And never miss it.
Your small house, too, in ruin!
Its feeble walls the winds are scattering!
And nothing now, to build a new one,
Of coarse green foliage!
And bleak December's winds ensuing,
Both bitter and piercing!
You saw the fields laid bare and empty,
And weary winter coming fast,
And cozy here, beneath the blast,
You thought to dwell,
Till crash! The cruel plough passed
Out through your cell.
That small heap of leaves and stubble,
Has cost you many a weary nibble!
Now you are turned out, for all your trouble,
Without house or holding,
To endure the winter's sleety dribble,
And hoar-frost cold.
But Mouse, you are not alone,
In proving foresight may be vain:
The best laid schemes of mice and men
Go often askew,
And leave us nothing but grief and pain,
For promised joy!
Still you are blessed, compared with me!
The present only touches you:
But oh! I backward cast my eye,
On prospects dreary!
And forward, though I cannot see,
I guess and fear!