I don't know about the rest of you, but I've been seeing all the Gay Pride stuff this June.  It's everywhere.  It's pernicious.  You will be made to care.  It's intended to demoralize us.  To make us believe that the war is over, we lost, and it's time to get on The Right Side Of History.  But, we here at Men of the West know how the story ends.  Jesus Christ is our Savior.  He has a plan.  And He's coming back.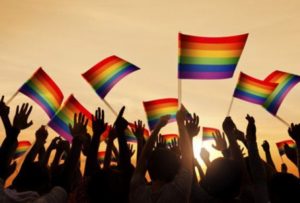 I'm not going to rehash the arguments.  The Bible is very clear on homosexuality.  Christians cannot accept homosexual "marriage" any more than they can accept adultery, divorce, lying, murder, or any other deviation from God's expressed command.
But I am here to tell you that from where I'm sitting, this is the peak of the insanity.  There are too many good people still fighting the good fight.  God agreed to spare Sodom if Abraham could find him 10 righteous men.  Jesus had 12 men who He appointed to spread His message to the world.  I ask you, the reader, how many good men who love God and are committed to following Him do we have?  There are millions of us.  Millions.
I can't tell you that the United States is going to continue in the form that we have come to know it.  But I can tell you that throughout history there have been bigger, meaner, tougher powers who plotted the demise of Christ's Church, and they failed just as the powers and principalities that are presently against us will fail.
And I want to take a moment to commend Jaelene Hinkle.  I don't know if she agrees with us politically.  It doesn't matter. She has publicly proclaimed herself a follower of Christ, and she refused to wear a LGBT "Pride" jersey, and because of this, she was denied a spot on the US Women's Soccer Team.  She paid a price for her faith – and we all know in this climate it's not just the price that she had to pay, simply refusing to put on that jersey because of her faith took a tremendous amount of courage.  How many of us have had to make that choice and put everything on the line like that in the United States?  Take heart, Christians.  Remember what Paul said in Phillipians:
Whatever happens, conduct yourselves in a manner worthy of the gospel of Christ. Then, whether I come and see you or only hear about you in my absence, I will know that you stand firm in the one Spirit, striving together as one for the faith of the gospel  without being frightened in any way by those who oppose you. This is a sign to them that they will be destroyed, but that you will be saved—and that by God.  For it has been granted to you on behalf of Christ not only to believe in him, but also to suffer for him,  since you are going through the same struggle you saw I had, and now hear that I still have.
We here in the United States haven't faced persecution like Paul did.  Our brothers and sisters in Christ are being tortured and are dying for their faith in other parts of the world.  Here, we're merely being threatened with the denial of our livelihoods.  And there is a great deal of hope that those who are against us have overextended themselves and will be vanquished.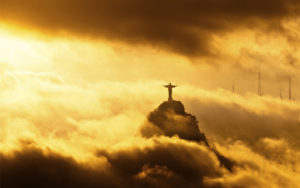 I want you all to do something.  Make your plans to celebrate Thanksgiving and Christmas this year in ways that explicitly honor God.  Throw out the commercialism and reject the culture that has attempted to hijack something special and pervert it.  It's still months away.  But now is the time to start planning.  I am looking forward to the celebration of Christ's Birth, where He put His plan into motion to deliver us from evil.
Here is all you need to know about Pride Month:
Jesus is LORD and the gates of hell will not prevail against Him!  Hallelujah!  He Is Risen and He will return in glory!