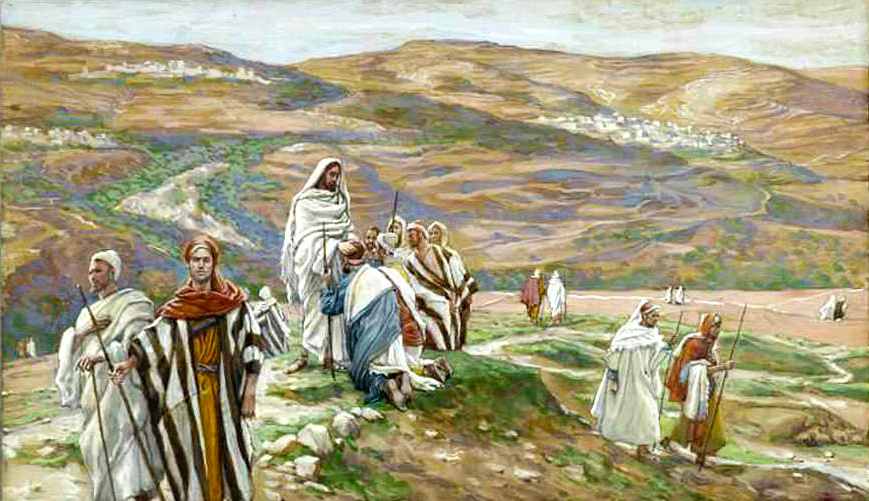 Editor's note:  The following comprises the fifth chapter, first part (A3), of The Gospel of Luke: An Exposition, by Charles R. Erdman (published 1936).  All spelling in the original.
3. The Mission of the Seventy (10:1-24)
___________________________________________________
1 Now after these things the Lord appointed seventy others, and sent them two and two before His face into every city and place, whither He Himself was about to come. 2 And He said unto them, The harvest indeed is plenteous, but the laborers are few: pray ye therefore the Lord of the harvest, that He send forth laborers into His harvest. 3 Go your ways; behold, I send you forth as lambs in the midst of wolves. 4 Carry no purse, no wallet, no shoes; and salute no man on the way. 5 And into whatsoever house ye shall enter, first say, Peace be to this house. 6 And if a son of peace be there, your peace shall rest upon him: but if not, it shall turn to you again. 7 And in that same house remain, eating and drinking such things as they give: for the laborer is worthy of his hire. Go not from house to house. 8 And into whatsoever city ye enter, and they receive you, eat such things as are set before you: 9 and heal the sick that are therein, and say unto them, The kingdom of God is come nigh unto you. 10 But into whatsoever city ye shall enter, and they receive you not, go out into the streets thereof and say, 11 Even the dust from your city, that cleaveth to our feet, we wipe off against you: nevertheless know this, that the kingdom of God is come nigh. 12 I say unto you, It shall be more tolerable in that day for Sodom, than for that city. 13 Woe unto thee, Chorazin! woe unto thee, Bethsaida! for if the mighty works had been done in Tyre and Sidon, which were done in you, they would have repented long ago, sitting in sackcloth and ashes. 14 But it shall be more tolerable for Tyre and Sidon in the judgment, than for you. 15 And thou, Capernaum, shalt thou be exalted unto heaven? thou shalt be brought down unto Hades. 16 He that heareth you heareth me; and he that rejecteth you rejecteth me; and he that rejecteth me rejecteth Him that sent me. 17 And the seventy returned with joy, saying, Lord, even the demons are subject unto us in thy name. 18 And He said unto them, I beheld Satan fallen as lightning from heaven. 19 Behold, I have given you authority to tread upon serpents and scorpions, and over all the power of the enemy: and nothing shall in any wise hurt you. 20 Nevertheless in this rejoice not, that the spirits are subject unto you; but rejoice that your names are written in heaven. 21 In that same hour He rejoiced in the Holy Spirit, and said, I thank thee, O Father, Lord of heaven and earth, that thou didst hide these things from the wise and understanding, and didst reveal them unto babes: yea, Father; for so it was well-pleasing in thy sight. 22 All things have been delivered unto me of my Father: and no one knoweth who the Son is, save the Father; and who the Father is, save the Son, and he to whomsoever the Son willeth to reveal him. 23 And turning to the disciples, He said privately, Blessed are the eyes which see the things that ye see: 24 for I say unto you, that many prophets and kings desired to see the things which ye see, and saw them not; and to hear the things which ye hear, and heard them not.
___________________________________________________
The sending out of the seventy messengers who were to prepare the way for the ministry of Jesus is recorded by Luke alone. This is in harmony with the fact that only in this Gospel do we read of the extended journeys toward Jerusalem made by our Lord on the occasion of which the Seventy were sent forth. The work was for only a limited time and their office was temporary; but in His instructions to them Jesus suggested many principles of life which apply to His followers in all the ages. He first intimated the reason for their being chosen. It was because the harvest field in which they were to work was so great and the laborers so few. He intimated that before the world can receive the message which the Seventy were sent to deliver, they and their successors must earnestly pray the Lord of the harvest to send forth more laborers into the field. This is a prayer which all who serve the Master may offer earnestly and at all times. The work seems to be only begun. Our sympathy with the Master will make us yearn to see the work accomplished with more speed, which can only be possible when larger numbers of laborers are secured. V. 2.
Jesus told His messengers that as they went forth they must expect to meet with dangers. "I send you forth as lambs in the midst of wolves." They were, however, to encumber themselves with nothing superfluous and they were to waste no time in idle ceremonies; they must journey as men who are impelled by one supreme motive. Vs. 3, 4.
As they entered a home they were to offer the peace which the gospel can give, but if rejected, they were to believe that their very message would return to them with added force. Thus our Lord signified that no word spoken for His sake is really wasted. Vs. 5, 6.
They were to continue in the home which received them, content with what was given, offering relief to those in distress and using every opportunity to proclaim the message of grace. Vs. 7-9.
Where their message was refused, and they were not received by city or town, they were to turn away, shaking off the dust of their feet, thus intimating by an Oriental symbol that they had no connection with the enemies of Christ. At no time is the reception of the gospel message universal. There are always some who refuse to accept its gracious offer. Vs. 10-12.
The thought of those who would surely reject His messengers reminded Jesus of the cities which had already rejected Him, and He paused for a moment to speak solemnly of their guilty unbelief. He referred to Chorazin and Bethsaida, declaring that in the Day of Judgment it would be more tolerable for Tyre and Sidon than for these cities, for even the heathen world would have repented in the face of such evidence of His divine mission as Jesus had given to the cities of Israel. He referred particularly to Capernaum, to its peculiar privileges and to its consequently greater condemnation. Jesus was stating the abiding principle that unusual opportunities involve unusual responsibilities. He emphasized the seriousness of rejecting His messengers by stating that in despising them men are really despising Himself and that those who reject Jesus are rejecting His Father who sent Him., vs. 13-16.
In order to complete the story of the Seventy, Luke proceeds at once to describe their return. They came back elated, with the report that even the demons were subject to them. Our Lord replied by a statement that in the overthrow of these messengers of Satan He saw the ultimate defeat of the Prince of darkness and of all the forces of evil, and He declared that He was giving to His messengers power over all that might oppose or might threaten to destroy them. Yet, He added, their chief joy should not be in their ability to perform these works of wonder, but rather in their having a part in His triumphant cause and in receiving His salvation. Vs. 17-20.
At this time our Lord Himself shared in the exultation of His followers and returned thanks to the Father for what He was accomplishing through the humble messengers whom Jesus had chosen, so that the results were a manifestation of divine power. He added a striking claim which indicates that the ideal Man is likewise the true Son of God who alone can reveal the Father to men. Then lastly, as He turned to His disciples, He congratulated them upon their great privilege, assuring them that "many prophets and kings" desired to see the things which they were seeing as his servants and as the instruments of His power. He intimated something of the exalted joy which through all the coming years His followers would feel as they realized their privilege of serving such a Master, and of revealing Him to men. Vs. 21-24.
(Go back to previous chapter)
(Continue to next chapter)