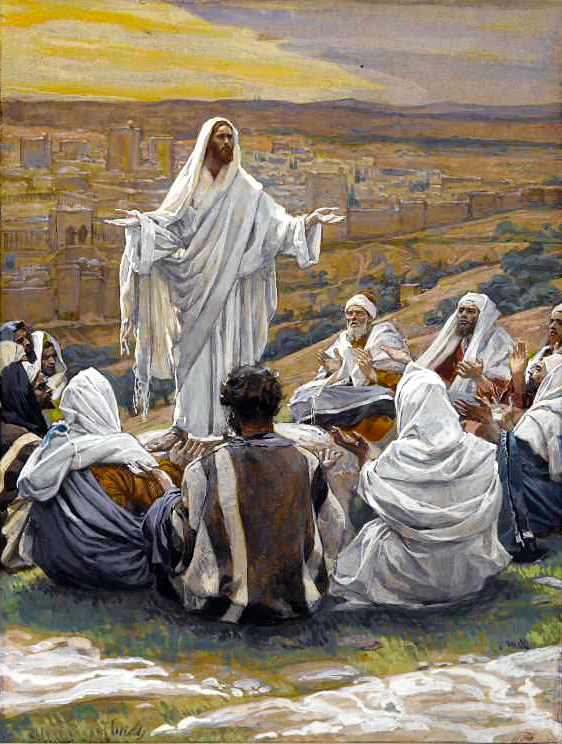 Editor's note:  The following comprises the fifth chapter, first part (A6), of The Gospel of Luke: An Exposition, by Charles R. Erdman (published 1936).  All spelling in the original.
6. Jesus' Teaching Concerning Prayer (11:1-13)
___________________________________________________
1 And it came to pass, as He was praying in a certain place, that when He ceased, one of his disciples said unto Him, Lord, teach us to pray, even as John also taught his disciples. 2 And He said unto them, When ye pray, say, Father, Hallowed be thy name. Thy kingdom come. 3 Give us day by day our daily bread. 4 And forgive us our sins; for we ourselves also forgive every one that is indebted to us. And bring us not into temptation.
5 And He said unto them, Which of you shall have a friend, and shall go unto him at midnight, and say to him, Friend, lend me three loaves; 6 for a friend of mine is come to me from a journey, and I have nothing to set before him; 7 and he from within shall answer and say, Trouble me not: the door is now shut, and my children are with me in bed; I cannot rise and give thee? 8 I say unto you, Though he will not rise and give him, because he is his friend, yet because of his importunity he will arise and give him as many as he needeth. 9 And I say unto you, Ask, and it shall be given you; seek, and ye shall find; knock, and it shall be opened unto you. 10 For every one that asketh receiveth; and he that seeketh findeth; and to him that knocketh it shall be opened. 11 And of which of you that is a father shall his son ask a loaf, and he give him a stone? or a fish, and he for a fish give him a serpent? 12 Or if he shall ask an egg, will he give him a scorpion? 13 If ye then, being evil, know how to give good gifts unto your children, how much more shall your heavenly Father give the Holy Spirit to them that ask him?
___________________________________________________
When the disciples came to the Master with the request, "Lord, teach us to pray," they had already, for some time, been with Christ in the school of prayer, and they had been impressed by that most valuable of object lessons, namely, the example of Christ Himself. If in our minds doubt ever arises as to the reality and efficacy of prayer, we need only turn to the Gospel of Luke to be reminded that our Lord spent long hours in intercession and that He prayed at every crisis in His life. Surely we shall not be misled if we follow in His steps!
What the disciples wished, however, was some special form or formula for prayer, such as John the Baptist seems to have given his followers. Jesus replied by granting them a matchless model and then by encouraging them in the assurance that prayer will surely be heard. This "Lord's Prayer," more fully recorded by Matthew, was not intended as a form which must be used rigidly on all occasions, but as a type which should mold all prayer, however free and varied and spontaneous it may be.
The first word, "Father," suggests the filial spirit in which all believers should draw near to God, and it intimates much of the encouragement which Jesus gave His disciples in the verses which immediately follow this prayer.
The prayer contains five petitions, two relating to the cause of God in the world, and three to personal needs of the petitioners. The first is a request that the "name" of God, His revelation, or our conception of God, be so reverenced, or so exalted, on earth as it is in heaven. The second is a parallel request, namely, that His Kingdom may come. This Kingdom is to be external, visible, glorious; it depends upon the inward transformation of individuals, but it will yet appear in a perfected social order, and in the universal reign of Christ. The next petition is for "bread sufficient for our needs," and it implies our right to pray for all that concerns our physical welfare. We are then taught to pray for pardon, as we come to God in a spirit of forgiveness toward others; and lastly, to ask for continual protection from the snares of the Adversary and from all the powers of evil.
To encourage His disciples in such petitions Jesus gave them the story of the man whose ceaseless, almost shameless, asking secured for him the answer to his request for needed bread. Jesus implied, however, that there is, on the part of God, no such reluctance to be overcome, so that all who "ask" of Him will receive what they need; if they "seek" relief He will grant it, if they "knock," even at "midnight," He will open the door without delay.
Further still Jesus encouraged prayer by again reminding His hearers that they were praying to a Father. Human parents reply to the requests of their children, not by mocking them or with injurious gifts, not by giving a stone when bread is asked, or a serpent for a fish, or a scorpion instead of an egg. If then, with all our imperfections and limitations, we know how to give good gifts to our children, much more can we expect our heavenly Father to give his Holy Spirit, and so all other good if lesser gifts, to them that ask Him. Thus again we see that the blessed name of "Father" is the key to the lesson. If we approach Him as children it will be with confidence, but also with submission, as we know that, whether He gives or withholds, his reply will be an expression of infinite mercy and of fatherly love.
(Go back to previous chapter)
(Continue to next chapter)