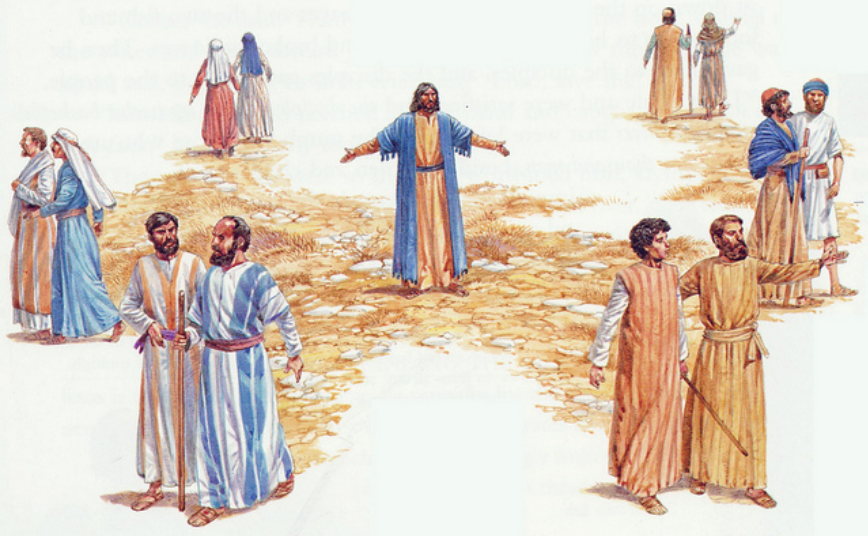 Editor's note:  The following comprises the fourth chapter, fourth part (D1), of The Gospel of Luke: An Exposition, by Charles R. Erdman (published 1936).  All spelling in the original.
1. The Mission of the Twelve (9:1-9)
___________________________________________________
1 And he called the twelve together, and gave them power and authority over all demons, and to cure diseases. 2 And he sent them forth to preach the kingdom of God, and to heal the sick. 3 And he said unto them, Take nothing for your journey, neither staff, nor wallet, nor bread, nor money; neither have two coats. 4 And into whatsoever house ye enter, there abide, and thence depart. 5 And as many as receive you not, when ye depart from that city, shake off the dust from your feet for a testimony against them. 6 And they departed, and went throughout the villages, preaching the gospel, and healing everywhere.
7 Now Herod the tetrarch heard of all that was done: and he was much perplexed, because that it was said by some, that John was risen from the dead; 8 and by some, that Elijah had appeared; and by others, that one of the old prophets was risen again. 9 And Herod said, John I beheaded: but who is this, about whom I hear such things? And he sought to see him.
___________________________________________________
As Jesus sent forth his twelve disciples on their first mission he was entering the closing period of his ministry in Galilee. Until now the apostles had been his companions; henceforth they were to be more strictly messengers and representatives. Jesus foresaw his approaching rejection and death, but before leaving for Jerusalem and the cross he wished to offer himself once more to the people of Galilee among whom he had long been laboring; and for this purpose he sent out the Twelve. Their circumstances and the directions given them by Jesus were peculiar to the time and occasion. However, these commands are not without application to the messengers of the Master in all ages of the world. They were given "power and authority over all demons, and to cure diseases." Such miraculous gifts were limited to their own day and were designed as credentials of their mission. It is true, however, that those who represent Christ must ever be concerned for the mental and physical conditions of mankind, even though the great purpose is to bring a message of spiritual import. The latter was, of course, the great purpose of the apostles. They went forth "to preach the kingdom of God," as well as "to heal the sick."
When Christ commanded the disciples to take nothing for their journey, he did not intend to impose needless hardships or even to suggest peculiar denial. He rather intimated the principle that his heralds must not be encumbered with worldly cares and burdens and that those who proclaim his gospel may expect to be supported by those to whom the message is preached.
In advising the disciples to remain in the first home where they were properly received, he indicated the wisdom of having a fixed center for their work, of being content with their entertainment and surroundings, and of avoiding social complications which might hinder their work. They were instructed, in case they were not received and welcomed as the messengers of Christ, to show their just displeasure as they departed from the place, by shaking off the dust from their feet, an Oriental custom which in this case indicated the disavowal of any possible relationship with the enemies of their Lord.
"And they departed, and went throughout the villages, preaching the gospel, and healing everywhere." These were the supreme representatives of the great band of heroes who have continued the work and have made known their message in all times and lands. They were prepared by the divine instruction of their Master. It has been said that there is something greater than preaching; it is to prepare preachers. Surely none were ever so trained and none ever accomplished their work so well; but it is possible for every follower of Christ to have some part in making known the gospel of his grace.
The great success of the disciples and the tremendous excitement produced by their mission is indicated by the fact that the reports of their work reached Herod the king and made him tremble on his throne. It was not that he feared what Jesus might do; it was rather because there was something in the rumor which awakened his sleeping conscience and filled him with a secret alarm and dread. "It was said by some, that John was risen from the dead." Herod had beheaded John, but the memory of his foul deed could not be buried; now he was wondering what might be the real nature of the miracles which were being reported and of the Man in whose name they were wrought. He "sought to see" Jesus. That was mere curiosity. He probably wished to see some miracles performed. Before long an opportunity was to be given him to stand face to face with the divine Man, but it was to be on an unexpected occasion when the latter would stand before him as a prisoner, when Herod might offer him protection or release; but when the occasion came he was disappointed by the silence of the Lord and allowed him to go away to crucifixion and death. One who beheaded John need not have hoped to understand Jesus. One who violates his own conscience today and refuses solemn warnings to repent, need not expect that Christ will be revealed to him in his beauty and grace and saving power.
(Go back to previous chapter)
(Continue to next chapter)