The Christmas season is a time for chili.  Whether it's a chili cookoff at work or dinner on a cold Saturday night, a hot and filling chili is what's on the menu.
Serious chili cookers spend years perfecting their recipes, which are as unique as their creators.  Some are hot, others are sweet. Some feature venison, others sausage; most rely on good old hamburger to get the job done.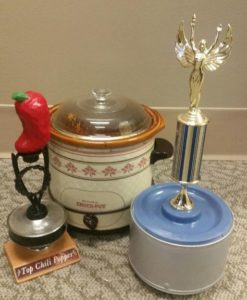 But if you'd like a basic, solid recipe that you can throw together in minutes, El B's got your chili:
You'll need:
2 lbs of 85/15 or 73/27 ground beef.
2 15 oz cans of Bush's hot chili beans.
2 cans of Rotel Chili Fixin's
1 6 oz can of tomato paste
1 15 oz can of tomato sauce
Diced, cooked tomatoes to taste
Diced bell peppers to taste
Your choice of hot peppers or pepper sauces or powders
Brown up the ground beef and throw everything in the crock pot on low. The choice between a leaner or fattier hamburger will show up here, as the 73/27 will produce a 'greasier' chili.
Add canned beans, Fixins, sauce, paste. If you like bigger tomato chunks, add the chunks here but not the water from the can. Home-canned tomatoes are fine, but I don't like fresh ones here (personal preference). Hunts also makes a tomato sauce especially for chili. It will produce a chunkier chili than regular tomato sauce, and so you may be able to avoid adding extra tomatoes.
At this point you will have a fast, basic chili that pretty much everyone will like.  Sure, some like it sweeter and others hotter, but if all you need to bring is a respectable chili, you can warm it all up and stop here.
But if you want to go on to greatness, or at least memorability, it's time to add the stuff that makes your chili stand out.
Add 2 TBSP Chipotle sauce. I like Tabasco's roasted Chipotle sauce for this step. It's not spicy/hot; it's smoky, and will deepen the existing flavor. It will make your chili taste richer.
If you like a sweet chili, here's the place to add some diced bell peppers. I have some frozen from the garden, so they add a really fresh flavor. Don't make your chunks too big, as they will completely overwhelm any single spoonful of chili. A little goes a long way.
If you like it hot, here's the place to add a sauce like Arizona Cowboy, Triple Fuego, anything that you like and that is hot-pepper based. Or you can add some cayenne powder, tasting as you go.  You can use fresh or dried tabasco peppers here, but be careful with whole peppers or chunks. I take a dozen dehydrated tabasco peppers from the garden and dice* them up in a little bowl of water. I microwave it until it boils, then add the water (not the peppers) into the mix, slowly stirring and tasting. The idea here is NOT to burn your tongue off (Spicy <> hot), but to get noticeable heat with the deep, smoky flavor of the other sauces. I recommend not using the tabasco peppers themselves unless your guests are expecting an extremely spicy chili.  It's too much for lots of folks.
Cook it for 3 hours on low, then refrigerate overnight. Cooling and re-warming noticeably improves the taste.
Next morning, bring it back up to temp (crock pot on high).
Profit!
It's fair to say that this chili is a cheater's recipe – there are plenty of shortcuts that a true chili aficionado would turn his nose up at. On the other hand, if you want to show the world you've got chili, you can take this base recipe, play with it, and make it your own.
* more like 'crumble', but you get the idea.