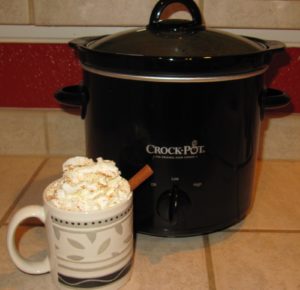 We're busy cooking of course, just like every other good family. The bird will be introduced to the fryer soon enough. In the meantime, there is hot buttered rum simmering in the crock, smelling up the house like nothing else does.
I've tried several recipes over the last few years. I thought I'd share the most recent:
3 sticks cinnamon
6 whole cloves
2 hard packed cups brown sugar
1 pinch salt
1/2 teaspoon ground nutmeg
2 quarts hot water
1/2 cup butter (1 stick) (real butter, dammit)
1/2 cup heavy whipping cream
2 cups dark rum
nutmeg
Put all that in your crock pot on low. Leave it for 5 hours. If you're in a hurry, put it on high for the first hour, then low for 2 hours. Works just as well. When done, stir in the rum.
Serve in a warm mug with a scoop of whipped cream and dusting of nutmeg.
As always, adjust everything to taste. Some folks my want to halve the brown sugar… others may prefer to double the rum. Hard to argue with either… or both.
Give it a try, boys. If nothing else, it'll smell up your house like nothing else.