Then the Lord said to him, "Now you Pharisees make the outside of the cup and dish clean, but your inward part is full of greed and wickedness.  "Foolish ones! Did not He who made the outside make the inside also? (cf. Luke 11:39-40)

The CEO of a successful company was getting on in years, and he wanted to choose a successor, one who would help the company continue to succeed, and grow even more.  He had so many great employees, and he found it difficult to choose the right one for the task.
Eventually, he came up with an idea.  He decided to give each of his employees a seed; they were to take these seeds home and plant them.  After a while he would check the seeds' progress and see which employee was able to get the most out of his seed.
One hardworking employee went home and excitedly told his wife about the project.  He fertilized the soil in the flowerpot and watered the seed.  Everyday he made sure to expose it to sunlight and nurture it as much as possible.  But, no matter how hard he tried the seed would not grow.  When he came to work each day, his colleagues would speak about how much their seeds were growing.  But while theirs developed into beautiful plants and trees, his seed was a failure.  But, nevertheless, he continued to work hard.
After one year, when the CEO instructed the employees to bring in their plants, he brought in his. The rest of his colleagues brought in their finished products, one more beautiful than the next.  Embarrassed that he had nothing to show for his efforts, the fellow with the fruitless pot stood meekly in the corner, while the CEO walked around inspecting the plants and trees.  After he examined each of the presentations, he was ready to make his choice.
Listening with half an ear, the fellow holding the fruitless pot nearly fainted when he heard the announcement : His boss had chosen him!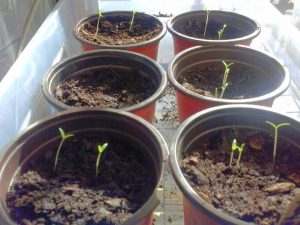 The CEO looked around at the shocked crowd and explained: "One year ago today, I gave each of you a seed.  But what none of you knew was that each of those seeds had been boiled, and were incapable of growing.  The rest of you, so eager to succeed, cheated, and that is why you are holding such beautiful plants in your hands.  But this one fellow here, with the 'fruitless' pot, was the only honest one in the group.  And so, I have chosen him to run my company."
We must learn to be consistently truthful.  Our inside must be like our outside.  When our inside is like our outside, we are like God and we emulate the Almighty, for He is a God Who is true and Whose Word is true and enduring forever.
In the 12th Psalm, David expresses frustration with those who are dishonest and who pretend to be his allies, when in truth they are his enemies.  David speaks of sfas chalokos, smooth talk, in lamenting the tactics of the dishonest and underhanded, while calling for retribution.  He mentions smooth talk numerous times throughout this psalm and even pleads with the Lord to excise all lips of smooth speech.
The word chalokos has the same root as the word for dividing and the concept of smoothness is associated with the concept of division and separation.  The basic idea is that nothing can support itself on a surface that is entirely smooth.  Hence, David is lamenting polished speech, which is so slippery it offers no support.  It is an apt description of people who employ flattery to gain advantage for themselves at the expense of others.
But those who flatter really live in a fantasy world of disillusionment and falsehood where small lies turn into a life of subterfuge and deceit; and although one may convince himself that he can continue to mask and obfuscate his shortcomings through flattery and falsehood, eventually the truth is triumphant as the web of lies and flattery collapses under its own weight as our Sages teach: Falsehood has no feet, nothing to stand on.
They speak idly everyone with his neighbor; with flattering lips and a double heart they speak.  May the LORD cut off all flattering lips, and the tongue that speaks proud things. (cf. Psalm 12:2-3)

This couldn't be more true in the Facebook age in which we live, where we don't even have the option of a "dislike" button.  Facebook is perhaps the aptest metaphor to describe the current state of our culture.  It truly stands as a symbol for the image-worship with which we are so obsessed.  The fact that it is a multi-billion dollar entity that produces absolutely nothing of value provides, in my humble estimation, even more damning evidence of a pathetic culture in decline.  Social network is the quintessential oxymoron of our age.  It could not be more anti-social.
What we need to understand is that a social system whose foundation is nothing more than smooth and polished speech i.e. lies, will ruin mankind at an infinitely more rapid pace than any overtly brutal force can.  When falsehood and evil are cloaked in goodness and truth and when the power of human speech is exploited for selfish and pernicious purposes, one will be hard-pressed to discover any vestiges of morality and decency in this world.
But we don't lose heart for we are assured that the Word of God is pure silver, and He has promised to end once and for all the destruction that is engineered through the misuse of the spoken word.  For we are assured that a day is coming when:
Each man will speak the truth to his neighbor and give judgment in the gates for truth, justice, and peace;  when none of you will think evil in your heart against your neighbor and not love a false oath. For all these are things that I hate,' Says the LORD." (cf. Zechariah 8)

Until that day, may we get busy cleansing the inside of the cup so that the outside is a true reflection of the inside.  May He cut off our flattering lips and may we learn to speak the truth to our neighbor even now.  Anything less is just a beautiful plant whose seed was a lie.