Recently I attended a Big Band concert. For those who may be unfamiliar with this style of music, here is some information I gathered from InfoGalactic.com.
A big band is a type of musical ensemble that originated in the United States and is associated with jazz and the Swing Era, typically consisting of percussion, brass, and woodwind instruments totaling approximately 12 to 25 musicians.With the advent of network radio in the mid-to late 1920s big bands became the predominant force in popular music.
Initially their main provenance was in the ballrooms of large hotels where their sole purpose was to provide music for dancing as well as in dancehalls generally found in larger cities. By the end of the 1920s, as radio became more and more popular, bands were beginning to add more higher-caliber jazz influenced musicians and as a result featured more and more improvised soloing. With the onset of the Great Depression, radio became an even more important factor in their popularity, because of the decline in audience attendance in ballrooms and hotels and the severe decline in the record business that was also a result of the bad economic conditions. This confluence of events, (the rise of network radio and worsening economic conditions) in conjunction with musicians "crossing over" between what was styles of "sweet" (non-jazz) dance music and "hot" (improvised) jazz music brought about the rise of virtuoso bandleaders such as Benny Goodman, some of whom achieved great fame and celebrity as performing and recording artists.

This kind of music is much less popular today, for obvious reasons. Everything has a season, and it is fair that Big Bands have diminished in popularity. Sadly, there are also things that have been lost in modern popular music. I shall leave those ideas for another time. Today, I am simply going to speak to this specific performance and the quality of this concert.
The musicians were very good. The venue was well set up and had good acoustics. The lighting was fun, and appropriate for the crowd. The band leader was engaging when he interacted with the crowd.
Unfortunately, the brass section often overpowered the woodwinds. This could have easily been the result of the good acoustics in the concert hall, the smaller crowd or just too much brass. The saxophones were miked and the speakers worked well. This was not enough to allow the runs by the woodwinds to be heard as anticipated. When I could make out the expected sections for the saxophones, they were exceptionally well executed. I simply felt I had to strain to hear them at important points in the music. The trumpets were extremely good. Their runs were precise and clear. The trombones supported the beat and sustained the lower tones without being "brassy".
The solo performers were truly a treat. Whether playing from their seats, or standing in the front to play their improv, each soloist was able to deliver a quality of performance that made the ensemble a real joy to experience.
Lastly, there was a guest singer and a guest pianist at this performance. Their execution was like the whipped cream and cherry on top of a delicious fudge sundae. They performed a duet of a Doris Day song, that was a true delight. The singer told the crowd that some of the musicians were seeing the music they were to perform for the first time that night. Had she not told the crowd, I doubt anyone would have guessed. While many of these songs might have been familiar to the musicians, the exact arrangement for this singer and pianist was not. This speaks to the professionalism and quality of these performers in a truly kind and generous way.
Here is one song as performed that night. I recorded it with my phone, so while I was impressed with the quality of sound, this is not meant to be a professional quality recording.

Why, you may be asking yourself, does a Big Band concert matter? Well, it matters for the same reasons that other parts of our history matter. Jazz, Big Band, or Swing, these are all unique forms of music developed by the men and women of the United States of America. Blues is often closely linked to Jazz. Jazz was influenced by Gospel. The popularity of musicians was grown through the radio. Movies used this style of music when they began to add sound.
Again from InfoGalactic:
Big bands began to decline in popularity not long after the end of World War II in 1945. Jazz music itself had started undergoing its transition to Be-bop as early as 1941, which meant that musicians were thinking in terms of the freedom found in playing with small groups as opposed to playing in large bands whose music was predicated on written arrangements."
"Amid the air of post-war conservatism,jazz as a musical style leaving swing bands behind and economic forces within the music industry dictating direction, vocalists as solo artists began to dominate the popular music business and the big bands and their leaders began facing a steep decline in the late 1940s, when many big bands broke up. However, during the years of their greatest popularity, essentially tagged the "swing era" from 1935-1946, the most notable bandleaders of "sweet" and "hot" bands had become major celebrities and so they were able to maintain their following to some extent longer than those not so famous. By the late 1940s, theaters that had continued featuring bands and stage acts in between movies through the war years had all but abandoned their band and live entertainment policies, and as the 1950s progressed, many suburban ballrooms were converted into bowling alleys and supermarkets."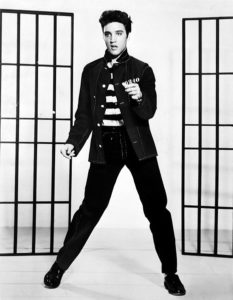 To put all of this into perspective, Elvis Presley recorded his first song in Memphis, Tennessee in 1954. So, while it is a huge leap of Grand Canyon proportions to say that if there had not been a Benny Goodman, there wouldn't have been a "King of Rock and Roll," the path that music in the USA followed did have a progression from Rag Time, to Big Band, to Rock and Roll.
History is important. Much like taking a moment to look back down the path after hiking up a mountain, looking back through history to see where we as a people came from is vital. To learn and grow, we must learn from the mistakes of the past. We must also celebrate the innovations, the victories and the individuals that brought us to this place.