Part I – The Flawed Fifteenth
"QUANTRELL has at least 1,000 men near the Kansas line."
Thus did the New York Times encapsulate both the fear and rage of Kansans in the month following William Quantrill's infamous raid on Lawrence. But while rumors swirled among the people and militiamen, soldiers, and Red Legs scouted along the border, Colonel Charles Raines "Doc" Jennison and his new lieutenant colonel, George Henry Hoyt, traveled the eastern counties of the state to urge every available man to attend a public meeting in Paola, scheduled for September 8, 1863.
While Union soldiers already stationed in Kansas could appreciate the sentiment expressed in the speeches of Jennison and Hoyt, many of them felt that they could not approve of their stated objective: burning everything in the two border tiers of counties in Missouri. "The lawless spirit is always rampant enough," wrote Wiley Britton, a cavalryman of the Kansas Sixth who attended one such rally in Fort Scott, "without giving it a quasi-public sanction."
The Paola meeting, organized by Senator James Lane in conjunction with many of the other Republican Radicals of Leavenworth and Lawrence, was advertised for raising an army of Kansans with guns and torches enough to burn western Missouri to the ground. Coming as it did directly after the implementation of General Thomas Ewing's Order Number 11, which drove most of Lane's intended victims out of the border counties anyway, and in the presence of that general with a battalion of armed Union soldiers sworn "to head off that damned fool Lane," the meeting failed in its ostensible purpose. No Kansas army crossed into Missouri by torchlight that night. But the whirlwind speaking tour beforehand did attract enough recruits to fill up Jennison's new regiment, the Kansas Fifteenth Volunteer Cavalry, which would be dedicated to making sure such a raid as Quantrill's Lawrence never happened again.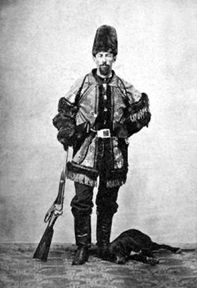 The Fifteenth's new colonel enjoyed a reputation on both sides of the border as a rabid abolitionist, raider, and Union guerrilla. Jennison, who had led the Kansas Seventh Cavalry until his resignation the year before, was the original "Jayhawker," an appellation which spoke not only of wanton looting and burning, but of forcibly converting western Missouri's horses and livestock to the abolitionist cause.  Though he had been briefly thrown in a Union army prison for insubordination shortly after his resignation, he still commanded fierce loyalty from that significant segment of the Kansas population that believed total war against Missouri and its residents remained the only way to keep Kansas safe.
But while Jennison was the man tapped by Kansas Governor Thomas Carney to raise the regiment, the meetings' most curious attendees came out to see his baby-faced assistant.  A former lawyer for Old Brown following the Harper's Ferry fiasco, George Hoyt came to Kansas with John Brown, Jr., serving in Jennison's Seventh before assuming the captaincy of the Red Legs, a quasi-freelance group of guerrilla-hunters and Union Scouts. Hoyt and Jennison had appeared inseparable since the moment he arrived – even when Jennison had been jailed, Hoyt was arrested alongside him – recognized as co-leaders of the ultra radical element in Kansas.  It was no surprise then when Hoyt, who often handled the legal work that Jennison's dirty work required, was chosen for the position.
The man the crowds came to see addressed them first, with a pair of Ivory-handled revolvers hanging from his slender waist and red sheepskin leggings covering his boots.  Hoyt's warmup act at the camp meetings involved showering the crowds with tales of righteous vengeance, both from the recent past and the hoped-for near future, whipping them into a frenzy before leading them in a rousing rendition of "John Brown's Body."  He would then turn the affair over to Jennison, or in the case of the Paola meeting, to Lane.
The kind of men who signed up for Jennison's new command were principally "veteran soldiers, veteran red-legs, and veteran jayhawkers" with a mottled assortment of rookie fire-breathers thrown on top.
Besides Hoyt, the Red Legs contributed Captain Joseph B. Swain, who headed up Company K of the Fifteenth and was better known under the patriotic alias "Jeff Davis."   Swain had once been caught by Missouri militiamen crossing the Missouri River into Kansas with twenty-five newly-freed slaves and forty horses, all headed for enlistment in a regiment of colored soldiers Lane and Jennison were raising at the time. Missouri residents from the area had petitioned President Lincoln himself to disband the colored unit, predicting that if it could go forward, there was going to be serious trouble between Missouri and Kansas.
The bulk of the recruits hailed from the northeastern corner counties of Kansas – Johnson, Leavenworth, and Wyandotte, though a few loyalists from Jefferson and Jackson counties in Missouri joined as well. Company A contained several Shawnee Indians, while Wyandotte County contributed a few members of the Wyandotte Tribe to Company E. That company also included a recruit who sported the unlikely name of Abraham Lincoln, making the Fifteenth possibly the only unit during the Civil War in which Jeff Davis and Abe Lincoln served side-by-side.  The regiment attracted so many volunteers that it was able to turn a surplus battalion over to the Kansas Sixteenth, which was also being formed at the time. Even a pair of full companies from Iowa and Illinois attempted to join the Fifteenth, only to be forbidden, wisely perhaps, by the governors of their respective states.
Though the regiment enjoyed an enthusiastic beginning, the contrast between the regiment's stated purpose and actual needs of the greater army in which it served quickly began to take a predictable toll on its membership. The regiment was not fully armed until February of 1864, and the Fifteenth spent much of the following spring and summer on garrison duty or making short scouting expeditions into Missouri. Its most significant fight had occurred during July of 1864, when Jennison led one of its companies to Camden Point, Missouri, surprised a handful of rebels who were enjoying a picnic hosted by the ladies of that town, and looted and burned Howell Jenkins' grocery store before returning home.  As a result, by the time the Fifteenth was subsumed into the cavalry division of Major General Samuel R. Curtis' new Army of the Border in September, the unit's strength had dropped from 1,015 men to 600.
The Kansas Adjutant General noted that within a year of its founding, the Fifteenth "had comparatively lost the espirit du corps so necessary to a healthy military condition."  Many would later wonder to what extent they ever truly had it.
(Continued in Part II)