The dappled colors from the stained glass window played across the altar onto the tiles in front of the altar rail. I listened to my priest repeat these words to each communicant:
"The Body of our Lord Jesus Christ, which was given for thee, preserve thy body and soul unto everlasting life. Take and eat this in remembrance that Christ died for thee, and feed on him in thy heart by faith with thanksgiving."
"The Blood of our Lord Jesus Christ, which was shed for thee, preserve thy body and soul unto everlasting life. Drink this in remembrance that Christ's Blood was shed for thee, and be thankful."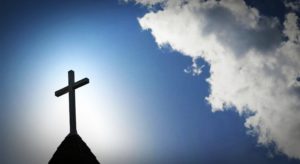 As I knelt, I seemed to observe across the centuries the millions who have heard those words, have thankfully received the Word of God, and the Lord's body and blood at his holy table. The Lord seemed to impress upon me that he has placed me into that throng, into something larger than I, into his Body that encompasses both Church Militant and Triumphant.
That touched me in a deep way. That is why I go to church.
Back in July, Lector wrote an open letter to Millennial Christians urging them to get involved in a church. I agree with him, yet I am not going to tell you why you need to be involved in a good church, but rather why I am. A year ago, the little home fellowship I attended folded when our pastor and his wife moved out of town. I was still grieving, for my wife had died the summer before, and without a fellowship, I felt quite alone and out of sorts. So, I searched for a new place to go. After a little investigation, I settled on a local Anglican church to visit. A liturgical church was somewhat unfamiliar to me, but not unknown, and the words of the Book of Common Prayer resonated within me—the confessions of sin and repentance, the pronouncement of forgiveness through Christ, the preached Word, and the Holy Communion were a great blessing to me. I soon joined and have been active ever since.
Opportunities to serve have opened to me: choir, being a reader, running a home fellowship group. The contacts and friendships connect me to like-minded Christians, and that gives me strength for when I have to go it alone. Is it a perfect church? No. Are there hypocrites there? Probably. Are there people there who do not always live for the Lord? No doubt. I have been guilty of all three at some point in my life, so that is no excuse. Remember, the church is not a museum for saints, but a hospital for repentant sinners who need cleansing by the blood of Christ.
Hebrew 10:24-25 says we are to provoke one another to love and good works, and we are not to forsake assembling together. The most casual reader of this website knows we are in a deadly struggle for our civilization; we are surrounded by physical, moral, and spiritual dangers. Given the hatred toward Christianity and all things holy, it behooves us to find a place to serve, be fed, comforted, bandaged, and prepared for the battles ahead. I have, and that is why I go to my little Anglican church. Get thee to a church!