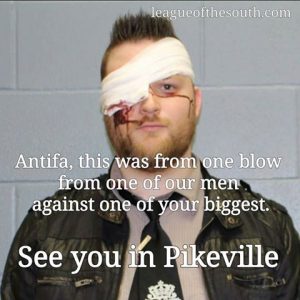 ***UPDATE***
The Pikeville City Commission has passed an emergency ordinance banning hoods and masks.
***
Sit Rep:  Several Organizations are planning an event this weekend in Pikeville Kentucky including the League of the South.   Antifa has learned of this event and is planning to disrupt the activities.
Location:  126 Main Street  Pikeville, Ky
Date/Time: 4/29/17  2:00pm EST

Detail: Antifa Atlanta, the same group that was running point on their Auburn operations is again taking the lead here.  This group is known to gear up more than other Antifa groups.  Also Antifa groups are calling for their people to gear up.   Pikeville has a no mask law, and Antifa is warning their people to not wear all black.  They have also developed another way to identify each other.   We will provide more intel on this as we get it.
Warning:  Antifa material is specifically noting that KY is an open carry state.  They are all but encouraging their people to carry guns.   This appears to be a very unpredictable situation, and therefore potentially dangerous.  We expect escalation from Antifa.
We strongly encourage you to read it from Antifa's own site.
ATGATT.