It's because they are shepherds:
A Michigan man is accused of being an ISIS supporter after he told an undercover FBI agent that he wanted to shoot up a church to show his support for the terrorist group…
When investigators asked Abu-Rayyan why he allegedly wanted to target a church, he said: 'It's easy, and a lot of people go there, plus people are not allowed to carry guns in church.
Now I'm as skeptical of sworn affidavits as every American ought to be, but only a fool cannot discern the signs of the times. We are witnessing the simultaneous rise of Islam and breakdown of Western culture. The chaos wrought by that combination means that people with a lot of different motivations are going to be looking for soft targets.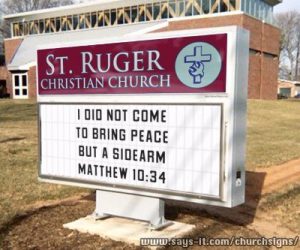 Your sheep should not be soft targets.
It's probably due to our modern unfamiliarity with actual shepherding that we ignore the implications of Jesus' choice of metaphor here. We think of shepherds – and pastor is the Latin word for shepherd – as sort of lounging guides, watching the stars at night and occasionally chasing a stray lamb that has wandered away from our group. It seems a very relaxing, if boring vocation, filled with simple joys. And sometimes it can be. But there are other duties that a shepherd must be willing to take up.
A Christian shepherd, like the Good Shepherd himself, must be willing to lay down his life for the sheep. In fact, it's expected of him:
I am the good shepherd; the good shepherd lays down His life for the sheep. He who is a hired hand, and not a shepherd, who is not the owner of the sheep, sees the wolf coming, and leaves the sheep and flees, and the wolf snatches them and scatters them. He flees because he is a hired hand and is not concerned about the sheep.
— John 10:10-3 (NASB)
But it's not just a matter of not running away from danger or of being the first to die. I submit to you that an actual shepherd must also be willing to kill:
But David said to Saul, "Your servant was tending his father's sheep. When a lion or a bear came and took a lamb from the flock, I went out after him and attacked him, and rescued it from his mouth; and when he rose up against me, I seized him by his beard and struck him and killed him. "Your servant has killed both the lion and the bear; and this uncircumcised Philistine will be like one of them, since he has taunted the armies of the living God."
— 1Sam 17: 34-7 NASB
This is not to say that Pastors need to slay people who taunt God, or deceive people, or even who deface or destroy property. That's not their job as pastors nor is it ever our duty as a church. Those outside are under God's authority, not ours (1Cor 5:12). Buildings are just property, and that's why you buy insurance.
But we are also called to be shepherds of real people, and we are to protect them from wolves. Those wolves may be of the spiritual kind. Those demand a spiritual response. Or they might be of the physical kind and therefore demand a physical response. In times where the flock is experiencing rising danger, the church shepherd must be prepared for both.