21…and be subject to one another in the fear of Christ. 22 Wives, be subject to your own husbands, as to the Lord. 23 For the husband is the head of the wife, as Christ also is the head of the church, He Himself being the Savior of the body. 24 But as the church is subject to Christ, so also the wives ought to be to their husbands in everything. Ephesians 5:22-24
There have been a lot of changes to the family structure in the last century. As the saying goes, not all change is progress. The authority of the father has been reduced, even in Christian marriages. Now pastors emphasize Ephesians 5:21 to soften the message of the above passage. It is true the bible was written without the chapters and verses. But there was a a good reason that a division was placed between Eph 5:21 and Eph 5:22. It is because he wasn't talking about marriage in 5:21.
Nowadays, there is a push for "mutual submission", as if that even makes logical sense. The authority of husbands and fathers has been nearly destroyed in secular society. In lower income segments of our society, 80% of children are born out of wedlock. We are doing away with the concept of a father altogether. It isn't politically correct to say so, but those segments of our society are supported almost completely with welfare. Remove that support, and they will be starving in the streets. Given our government's financial situation, that rings very ominous indeed. A single mother society leads to the death of civilization.
We've been sold a bill of goods that women are the same as men. They aren't. Women are very good at nurturing children. It's almost like God created them for that purpose. Yet, a father's influence is essential to have a successful outcome. Children raised only by their mother don't do as well. The absent father has no motivation to improve himself. The government will provide. Children raised in this situation have less chance of creating a two parent home themselves.  Once you remove that civilizing force, you can't get it back.
It is ironic that one of main objections to the quoted verses is that a man will become a tyrant. In some cases, he may. But looking back at older couples that modeled a biblical marriage, that wasn't often the case. The irony comes that in resisting that biblical command will cause the destruction of Western Civilization and usher in an era of barbaric treatment of women.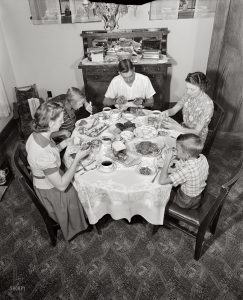 Men created Western Civilization. Try to think of any modern technology invented by a woman. But men didn't do it just for kicks. They did it because they wanted to make the world better for their children. Enter feminism. Suddenly a woman at home raising children isn't considered glamorous. Eventually women are expected to work outside the home. Adding that many people to the labor force without a corresponding increase in consumption, and you get a depression of wages, due to the increased labor supply. Soon a man finds it difficult to earn enough to support a family alone. Now, the wife almost has to work. In this situation, the state is educating their children, and instilling the same anti civilizational values.
Now, with their influence reduced, or having been completely removed from the family, some men are checking out or avoiding marriage. There are more Millennials living at home with their parents than are living with a spouse.
Western Civilization cannot survive when the next generation isn't being born, or is instead raised by single mothers, while the fathers smoke dope and play video games. By removing the influence of fathers, we've destroyed their motivation. By destroying their motivation, we have cut off that branch that we were all sitting on, and the costs will be enormous.
The solution will be painful and difficult; yet, it's obvious. We must return to the family structure that built the whole thing: Men, leading their families, shaping their world and their children for the future.  If you have the opportunity to be a patriarch, do so, and save the West.