I've decided that I like my Hellcat, and I'm gonna keep it. I've taken it to the range a few times. I'm getting used to the size and the recoil. It's a small gun; small guns are harder to shoot.
I put an Apex trigger in it a few weeks ago and took it to the range again. The new trigger made a big difference for me. I was more accurate with the Apex trigger than with the stock trigger. That seems to be the consensus among people who have installed the Apex trigger. If you have a Hellcat, I recommend the upgrade.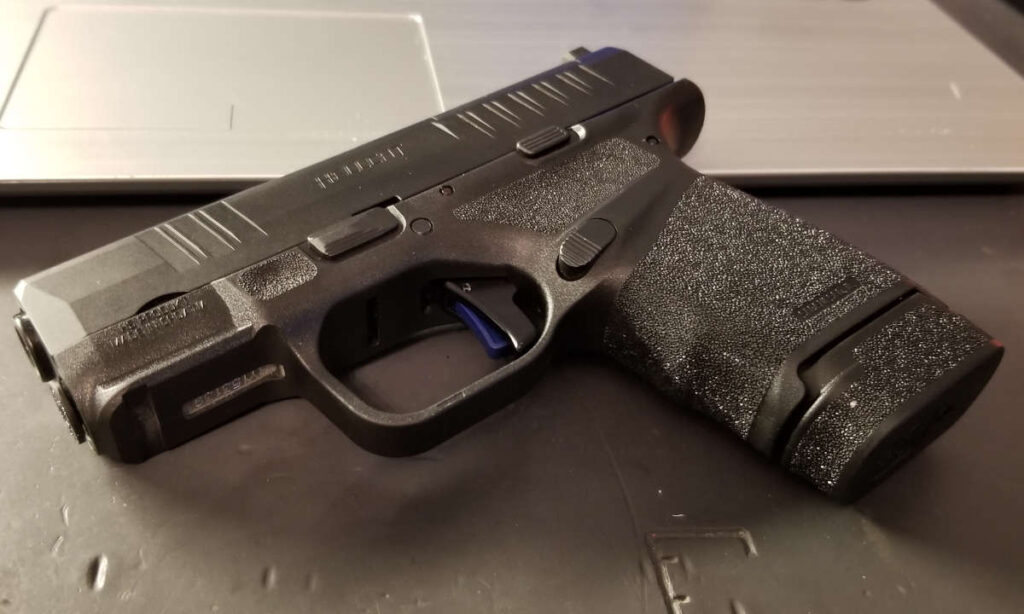 I could easily hit a 10-inch plate at seven yards with the the Hellcat. Ping, ping, ping, ping … all on the plate. Now, I was basically just unloading the mag, so I wasn't hitting 1 inch groups or anything. I took the plate out to 15 yards, and I missed a couple times. I'm sure it's me and not the gun. I seem to shoot the Hellcat a bit high and left.
I also shot my Glock 19 (with a new Ghost Trigger upgrade) and my new Glock 21 to compare. I can still shoot a G19 better than the Hellcat. The G19 is bigger and heavier, and it's just damn easy to shoot. The Ghost Trigger connector was a improvement to the stock Glock trigger. I plan to get another Ghost Trigger for my G21. I don't know where all the Glock hate comes from, but I got nothing but love for the two Glocks I own. #GlockNation
The G21 was a lot of fun and really easy to shoot. Who doesn't love shooting .45 ACP, amirite? It came with three, 13-round magazines. That's 13+1 of .45 ACP. So now I'm wondering, "Which is the better night stand gun? A Beretta 92A1 with 17+1 of 9mm, or a Glock 21 with 13+1 of .45 ACP?" Decisions, decisions.
The last piece of gear I tested on the range was my new NeoMag. Changing mags was really easy with the NeoMag. I have one for my Hellcat and one for my 9mm Glock mags. I guess I'll have to get two more, a large regular and large Glock NeoMag for my .45s. It's always good to have a spare mag.
For now, I plan to stick with the Hellcat for my daily carry. I can't shoot it quite as good as the G19 … yet … but it is smaller, lighter, and easier to conceal. I'll bring along an extra mag with the NeoMag. I might even get a micro red dot for it at some point. If I do, I'll post Hellcat (Part 3).
For after hours and weekends, maybe I'll go with the G19 or a 1911 in a shoulder rig. I might even buy a holster for the G21. Diversity is our strength, after all.
#AllGunsMatter