As Men of the West, we are in the midst of a battle against the forces of darkness on every side whose only goal is to destroy us. It is imperative that we maintain as close contact as possible with our Commander-in-Chief. We receive our orders and regulations from the scriptures, and we communicate with our Lord through prayer. Yes, we are to pray always and give thanks wherever we are, but as men, in the sanctity of our own homes, we need our own place to read, pray, and meditate away from all distractions. This is what I did.
When my wife died, I was devastated, of course, but rather than driving me away from God, her loss drove me to Him. I wanted an understanding of our brief life together more than anything else. This meant much prayer, and many tears. Over time, I wanted a place at home dedicated solely to prayer and scripture. After much thought, I made myself an altar.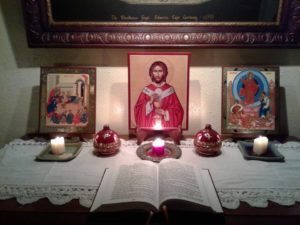 To put my prayer altar in as private a place as possible, I placed it on top of my late wife's dresser in the bedroom. Three icons decorate the dresser top, lending a sense of being in the presence of God. One is of the Holy Supper, the second of Christ the High Priest, and the third is of the Resurrection. Votive candles complete the feel of having a sacred, reverent space in which to meet God.
For scripture readings, I use the liturgical calendar readings of my Anglican church. That allows me to read nearly the entire Bible in one year. I always begin with the scriptures to be fed through the word. The scriptures are most important as they contain our marching orders. My mind tends to wander, so to focus my thoughts and prayers, I use the morning and evening family prayers in the 1928 Book of Common Prayer. To that, I add my own personal prayer requests, thanksgivings, and praises. Doing this has brought a peace and calm to my life which I did not possess before, and I highly recommend it.
You can set up your prayer/worship area however you wish, and you can read/pray however you wish, but this works for me. The important thing is to have a space, your own personal space, in which to spend time with the Lord. Only by being with him will you have the strength for the daily battles of a Man of the West.