Frost is in the forecast here, so I spent Saturday morning cleaning up / pulling up the south garden. It needed some work, to be sure. After the original potato / garlic / onion harvest in July, I replanted in pumpkins and watermelons and just let the vines run.
I also planted in peppers: bell peppers and jalapenos and cayennes and tabascos, oh my! With the rains we've had the last 5 weeks, the results were glorious. But after hauling bags full of peppers to church, office, and relatives, I still have far more peppers than I'll be able to eat before they go bad.
We can't just throw them in the fridge, so let's take a quick look at a few ways you can make God's bounty last through what looks to be a long, cold winter.
Drying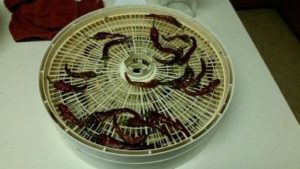 This is the simplest and oldest method of food preservation. It works really well for cayennes and tabascos, peppers that you intend to crush or grind for pizza or to use in some other way that does not demand that the body be soft*. For me, I give them 24 hours in a dehydrator, let them cool, then store them in quart canning jars with screw-on plastic lids. The heat and flavor will remain in them for a long time.
Freezing
Some peppers, especially sweet ones like bells, don't handle drying well. They just don't have enough body or heat or flavor to give anything back once their water is removed. These peppers are often good candidates for freezing. You can chop your bell into squares, freeze it in plastic bags, and take it out when it's time to make Denver omelets or chili.  It won't completely retain its crunch, but it will keep its color and flavor for a few months. Another idea is to fry it up with mushrooms and onions in olive oil and then freeze the result in small jelly jars. The concoction is perfect for slopping on burgers (heated up, of course), and will last a good while in the fridge once thawed.
Saucing
Saucing is creating a fluid product by pulverizing the pepper itself, then adding liquids like water or vinegar. Some of the best sauces are insanely simple, like frying your jalapenos and then blending them in a little vinegar and garlic. This thick and simple taco sauce will add fire to many a meal and can be frozen to preserve larger batches. There are also a few recipes online for more familiar pepper sauces. Who knows, with a little experimentation you might even give Tabasco a run for their money.
Canning or pickling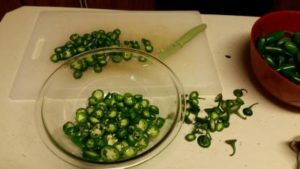 Because I like to put actual pepper slices on my burgers, most of my jalapenos get pickled or canned.  There is a difference. Canning is the process of using heat to eliminate bacteria in a sealed product**. Pickling, while it uses heat to seal the product, relies primarily on a high-acid environment to do the same job. Pickling, most popular with cucumbers, works just as well for thick-bodied peppers like jalapenos. You may choose to can them as well and the product will taste just as good and preserve just as long. Your rings might just be a little mushier.
Our grandparents preserved their harvest as a matter of course, as a matter of necessity. Fortunately, we don't have to rely on our pantries to get us through to the next harvest. But in that trade-off of work for convenience, we have lost a little something. Vitamins, for sure: your own garden provides fresher and healthier food than you'll find in just about any store. But there is also a bit of satisfaction, and a whole lot of thankfulness to the Lord of our harvest, when we can serve our families the product of our own hands.
If you've started a garden, and I recommend that every man does***, take the next step and preserve a little of your bounty for winter. Because winter is coming, and we would be wise to be prepared to meet it.
* Last year, to add kick to my double-award-winning chili, I microwaved a handful of dried tabascos in water, then put the water into the chili. I could have powdered and added them just as well.
** Always remember to follow an established canning or pickling recipe. You can dry or freeze foods without too much worry, but canning should be treated with caution, especially when you're first starting out. 
*** After all, gardening was the first man's vocation.