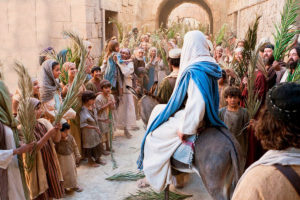 Palm Sunday
The Collect
ALMIGHTY and everlasting God, who, of thy tender love towards mankind, hast sent thy Son, our Saviour Jesus Christ, to take upon him our flesh, and to suffer death upon the cross, that all mankind should follow the example of his great humility; Mercifully grant, that we may both follow the example of his patience, and also be made partakers of his resurrection; through the same Jesus Christ our Lord. Amen.
The Gospel
St. Mark 11:1-11
And when they came nigh to Jerusalem, unto Bethphage and Bethany, at the mount of Olives, he sendeth forth two of his disciples, And saith unto them, Go your way into the village over against you: and as soon as ye be entered into it, ye shall find a colt tied, whereon never man sat; loose him, and bring him. And if any man say unto you, Why do ye this? say ye that the Lord hath need of him; and straightway he will send him hither. And they went their way, and found the colt tied by the door without in a place where two ways met; and they loose him. And certain of them that stood there said unto them, What do ye, loosing the colt? And they said unto them even as Jesus had commanded: and they let them go. And they brought the colt to Jesus, and cast their garments on him; and he sat upon him. And many spread their garments in the way: and others cut down branches off the trees, and strawed them in the way. And they that went before, and they that followed, cried, saying, Hosanna; Blessed is he that cometh in the name of the Lord: Blessed be the kingdom of our father David, that cometh in the name of the Lord: Hosanna in the highest. And Jesus entered into Jerusalem, and into the temple: and when he had looked round about upon all things, and now the eventide was come, he went out unto Bethany with the twelve.
Shortly before the Lord's triumphal entry into Jerusalem, certain Greeks who had come to Jerusalem to worship approached Philip, desiring to see Jesus. Philip told Andrew, and together they told Jesus. (John 12:20-22) Jesus' fame and reputation had spread throughout the land by this point in his ministry. Whether these Greeks wanted to meet the Lord out of mere curiosity, or out of desire to know more about his message, is not revealed, but the episode does reveal the Lord was not side-tracked by his fame or by curious Greeks. Ignoring the request, he immediately began to speak of his impending death and the cost of being his disciple. He never wavered from his mission—to die and save us from our sins.
Now, he rides into Jerusalem to the adulation of the crowds. Their narrative of many said he came to restore the kingdom of David, and drive out the Romans. Even the disciples held to this narrative to some degree as evidenced by their asking Jesus if he would restore the kingdom to Israel immediately before his ascension. Only the indwelling and enlightenment of the Holy Spirit, and the Lord teaching them post-resurrection would help them understand the true meaning of the Lord's life, death, and resurrection. These men would go on to turn the world upside down.
The adoring crowd, on the other hand, soon called for Jesus' death, preferred a murderer released to them rather than the King of Glory, called his blood down upon their heads and the heads of their children. Jesus was not distracted by the fickle praise of men, nor let it divert him from his mission. He did not follow their narrative, but did the will of God, and for this he must die. Thank God he did, and purchased eternal salvation for us.
As Men of the West, we all have our missions and callings. We all have varying places and duties in the war to preserve Western Civilization. In this dark world, our mission, our beliefs, and values will run counter to the narrative of the world around us. Have no doubt that we will draw the wrath of our enemies upon us. Like our Lord, we are to keep a laser-sharp focus on our mission, caring nothing for man's adulation, nor man's censure. The Lord Jesus is our rock, our stronghold, and our example. Following him and his example daily by faith, victory is ours.