"But when the Jews in Thessalonica learned that Paul was preaching the word of God at Berea, some of them went there too, agitating the crowds and stirring them up." Acts 17:13
The world works in patterns. We're human, and we repeat the same stories over and over again.
So it should be no surprise that once again Jews are trying to control the narrative by agitating and stirring up crowds.
The latest "attacks" on Jewish synagogues are a prime example of this at work. The attacks are immediately blamed on Christians and Trump supporters by the media. Then the truth comes out and not only is it not a Christian, it's consistently a progressive supporter.
While these attacks might just be random lunatics acting out whatever poison they've been swallowing for years, there are organized, concerted efforts to protest and disrupt America.
And for those, we have a name to associate with the unrest: George Soros.
He made a staggering amount of money by fleecing the Bank of England in a short sale. He's taken that money and has used it to fund various organizations and groups bent on a destroying Western Civilization.
The Black Lives Matter terrorist organization has had cash infusions from Soros. Many protests sponsored by the Communist Party USA have had their funding from Soros. These latest protests against President Trump aren't grassroot uprisings. They are being funded by Soros. People bussed in, handed pre-printed signs, told what to say, and paid afterward. This isn't democracy, this is the same pattern we see in the New Testament. The Jew agitating and stirring up crowds against someone speaking things they don't want to hear.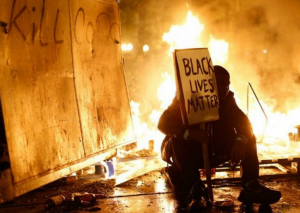 While there is a difference, a vast difference, between the early Apostles bringing the Gospel to the world and President Trump's attempts to undo the decades of Progressive damage, there are some similarities. While one was the Jew's attempts to stop the Truth, the protests against Trump are the Jew trying to stop the truth.
Be prepared. Soros has already dumped a ton of money into his various projects, and he's not going to stop now. And just like the Jews in Acts, he's going to lay the blame elsewhere. If he can fix it on Christians or Trump supporters, so much the better for him. And that'll be just another pattern of which we'll need to be aware.
No one is going to spend eternity in Hell for rejecting President Trump. But embracing the little lies from the Soro's funded evil makes one a whole lot more likely to reject the greater Truth from the Son of God.