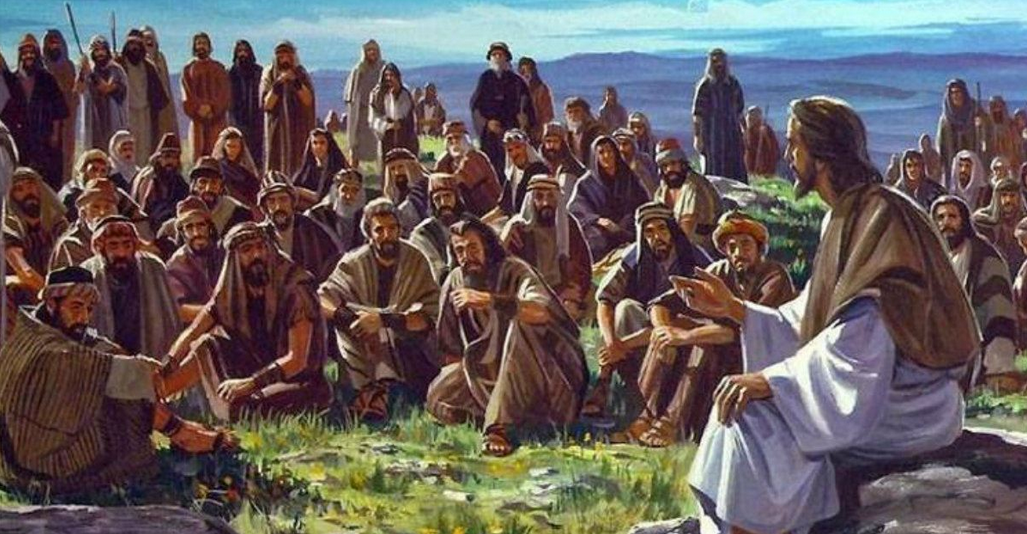 Editor's note:  The following comprises the fourth chapter, third part (C2), of The Gospel of Luke: An Exposition, by Charles R. Erdman (published 1936).  All spelling in the original.
2. The Great Sermon (6:20-49)
___________________________________________________
20 And he lifted up his eyes on his disciples, and said, Blessed are ye poor: for yours is the kingdom of God. 21 Blessed are ye that hunger now: for ye shall be filled. Blessed are ye that weep now: for ye shall laugh. 22 Blessed are ye, when men shall hate you, and when they shall separate you from their company, and reproach you, and cast out your name as evil, for the Son of man's sake. 23 Rejoice in that day, and leap for joy: for behold, your reward is great in heaven; for in the same manner did their fathers unto the prophets. 24 But woe unto you that are rich! for ye have received your consolation. 25 Woe unto you, ye that are full now! for ye shall hunger. Woe unto you, ye that laugh now for ye shall mourn and weep. 26 Woe unto you, when all men shall speak well of you! for in the same manner did their fathers to the false prophets.
27 But I say unto you that hear, Love your enemies, do good to them that hate you, 28 bless them that curse you, pray for them that despitefully use you. 29 To him that smiteth thee on the one cheek offer also the other; and from him that taketh away thy cloak withhold not thy coat also. 30 Give to every one that asketh thee; and of him that taketh away thy goods ask them not again. 31 And as ye would that men should do to you, do ye also to them likewise. 32 And if ye love them that love you, what thank have ye? for even sinners love those that love them. 33 And if ye do good to them that do good to you, what thank have ye? for even sinners do the same. 34 And if ye lend to them of whom ye hope to receive, what thank have ye? even sinners lend to sinners, to receive again as much. 35 But love your enemies, and do them good, and lend, never despairing; and your reward shall be great, and ye shall be sons of the Most High: for he is kind toward the unthankful and evil. 36 Be ye merciful, even as your Father is merciful. 37 And judge not, and ye shall not be judged: and condemn not, and ye shall not be condemned: release, and ye shall be released: 38 give, and it shall be given unto you; good measure, pressed down, shaken together, running over, shall they give into your bosom. For with what measure ye mete it shall be measured to you again.
39 And he spake also a parable unto them, Can the blind guide the blind? shall they not both fall into a pit? 40 The disciple is not above his teacher: but every one when he is perfected shall be as his teacher. 41 And why beholdest thou the mote that is in thy brother's eye, but considerest not the beam that is in thine own eye? 42 Or how canst thou say to thy brother, Brother, let me cast out the mote that is in thine eye, when thou thyself beholdest not the beam that is in thine own eye? Thou hypocrite, cast out first the beam out of thine own eye, and then shalt thou see clearly to cast out the mote that is in thy brother's eye. 43 For there is no good tree that bringeth forth corrupt fruit; nor again a corrupt tree that bringeth forth good fruit. 44 For each tree is known by its own fruit. For of thorns men do not gather figs, nor of a bramble bush gather they grapes. 45 The good man out of the good treasure of his heart bringeth forth that which is good; and the evil man out of the evil treasure bringeth forth that which is evil: for out of the abundance of the heart his mouth speaketh.
46 And why call ye me, Lord, Lord, and do not the things which I say? 47 Every one that cometh unto me, and heareth my words, and doeth them, I will show you to whom he is like: 48 he is like a man building a house, who digged and went deep, and laid a foundation upon the rock: and when a flood arose, the stream brake against that house, and could not shake it: because it had been well builded. 49 But he that heareth, and doeth not, is like a man that built a house upon the earth without a foundation; against which the stream brake, and straightway it fell in; and the ruin of that house was great.
___________________________________________________
It might seem difficult to prove that the Sermon on the Mount is the same as this discourse which has been called by some the Sermon on the Plain. The exact relation between the sermon reported by Matthew and this great address recorded by Luke has long been a subject of debate. It is quite probable, however, that they are identical. After Jesus had chosen the twelve apostles on the summit of the mountain where he had spent the night, he descended to a level place on the mountain side and there met the multitude and delivered the sermon which holds first place among all the discourses in the world.
If this address is the same as the Sermon on the Mount, it is to be noted that each account begins with beatitudes and closes with a warning, while the main body of the discourse differs only in the aspect of truth emphasized by the two writers. In Matthew the essence of the Christian life is described as true righteousness in distinction from the formalism of the Pharisees. In Luke the essence of righteousness is found in love. Matthew was writing with Jewish Christians in mind. The Gospel of Luke was for the world and many of his readers would not have appreciated the distinction which Matthew was emphasizing. The word which would describe the sermon as recorded by Matthew is spirituality, but the substance of the Christian life as here indicated by Luke is charity.
The Beatitudes here recorded are four in number, while Matthew mentions eight or nine; but Luke adds four woes, each one of which is in striking contrast with the parallel Beatitude, vs. 20-26. The sermon begins, therefore, by pronouncing blessings upon the followers of Christ and contrasted woes upon those who reject him. Those who are declared to be blessed are the poor, the hungry, the mourners, and the despised; while woes are pronounced upon the rich, the satisfied, the joyous, and the praised. It is, of course, understood that there are spiritual implications in these different terms. Poverty, hunger, sorrow, reproach, have no merit in themselves and issue in present and eternal blessedness only when accompanied by humility, trust, and patience, and when endured for the sake of Christ. So, too, there is no wrong in riches and satisfaction and laughter and praise unless these are accompanied by the selfishness and greed and frivolity and unworthiness with which they are so often identified. By these blessings and woes the Master indicated the real character as well as the abiding blessedness of those who are his true disciples.
The burden of the discourse, vs. 27-45, sets forth the Christian life as being in essence a life of love. This sermon on love might be accompanied properly by the "hymn of love" composed by Paul, 1 Cor., ch. 13, and by the "Scripture lesson" on love written by John, 1 John 4:7-21.
First then, in place of all revenge, vs. 27-30, Jesus established the Golden Rule: "As ye would that men should do to you, do ye also to them likewise." V. 31. Then, in contrast with the self-interest and desire for recompense which so often passes among men as charity, vs. 32-34, he pointed to the perfect example of God and intimated that his mercy should incline us to kindly judgments of our fellows, assuring us of the boundless liberality with which our Father will reward our unselfish love. Vs. 35-38.
The second portion of the main discussion, vs. 39-45, dwells still more definitely upon the fault of unkindly judgments to which Jesus had just referred and which constitutes such a common infraction of the law of love. A man who is unkind in his criticisms and unconscious of his own faults cannot help his fellow man; he is like a blind man trying to lead the blind, like one in whose eye there is a beam trying to help one in whose eye there is a mote. As good fruit is produced only by good trees, only out of hearts full of love can real helpfulness come.
To warn men against calling themselves Christians while they do not observe the law of love, and to encourage his disciples in faithfully keeping his commandments, Jesus concluded this sermon with the familiar figure of the two houses, founded one upon the sand and the other upon the rock. Amid the storms and tempests and floods of the time of judgment, only the latter will stand secure.