Robert V. Thompson finds a pansy Jesus:
[T]he Jesus I know wouldn't cast a stone much less shoot a gun…
Jesus would not pack a pistol. Just as he threw the money changers out of the temple he would throw gun bearers out of the sanctuary. He would tell them to come back but only if they were unarmed…
Here is my bottom line. Jesus would not join the NRA, because he never condoned any form of violence.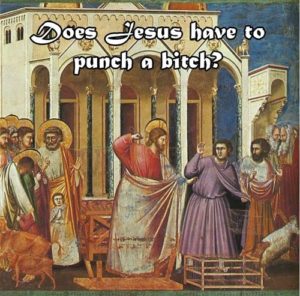 It would be interesting to ponder how Jesus might throw armed people out of church without any kind of violence. But for an answer it might be instructive to review exactly how he threw the aforementioned moneychangers out of the temple:
The Passover of the Jews was near, and Jesus went up to Jerusalem. And He found in the temple those who were selling oxen and sheep and doves, and the money changers seated at their tables. And He made a scourge of cords, and drove them all out of the temple, with the sheep and the oxen; and He poured out the coins of the money changers and overturned their tables…
— John 2:13-15, NASB
That looks just a tad violent to me.*
Now I suppose Jesus could have reasoned with those fine, upstanding businessmen. Surely they would have respected his oratory and agreed to peacefully move their market a few yards outside to the court. Instead he made a weapon and whipped their butts with it, then he dumped their stuff all over the floor.
I don't see how the same Jesus who made an offensive weapon and drove people out of the temple with it would have any argument with those who would carry weapons for defensive purposes in any other kind of building. Then again, maybe the Creator of the universe just doesn't understand guns like liberals do.
* What a disappointment Jesus must be to the peaceful religious liberals of this world.