Maxine Waters, an extraordinary low IQ person, has called for harassment of Trump officials. Hillary isn't a fan of civility either.
  "Give me a break! What is more uncivil and cruel than taking children away? It should be met with resolve and strength. And if some of that comes across as a little uncivil, well, children's lives are at stake; their futures are at stake."
This was our Co-president when Elion Gonzales got deported at gunpoint and when 25 children were roasted at Waco.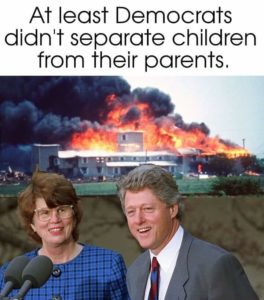 Democrats must be terrible at chess. They can't see beyond one move ahead. This would be why all of their policies produce the opposite result of the stated intention. Harry Reid went nuclear on the judicial appointee rule and he was warned about it. At least we don't have to listen to them whine when it gets used against them. Oh, there's plenty of whining, but for some reason it isn't about the rules. (Democrats want Trump to wait until after the election, as if the people didn't speak in 2016.)
We also can play ugly, if that's how they want it. I think we can be better at it too. We can all see where this road leads. It's probably inevitable, but there is no reason to be in a hurry. We must prepare. Start nothing, finish everything.
They should be able to see that this isn't a winning strategy for them, but whoever's is in charge of strategy for the Democrats should be fired. They are losing white blue collar workers because they insist on bringing in third world illegals to undercut their labor. That should have been obvious. Also obvious, those immigrants will vote for people that look like them. This doesn't leave Chuck Schumer or Hillary much of a constituency. Black people seem to be leaving the Democrat plantation also.
We should note that when leftists say they want to hurt you, you should believe them. We are winning, and we aren't going to stop soon. Violence and lashing out is all they have left. So strap 'em on, things may get interesting. I don't expect things to get out of hand, at least not for long. We on the right are armed to the teeth, and even leftists are going to learn implications of that disparity of force rather quickly if they try anything.
Civility is caused by Western Civilization, not the other way around. A temporary ugly patch won't hurt us in the long run. It will be of great benefit, if we can show leftists the error of their ways, and send some foreigners packing.