Like people, your garden plants can have best friends and worst enemies. Some plants provide for their neighbors, making them thrive. Some plants seem to stunt others. Companion planting is the art of plant placement that allows the plants themselves to do much of the work of gardening.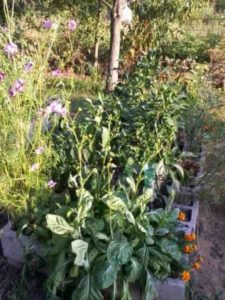 One of the most useful ways companion planting works is by keeping the bugs off of your favorite (and the bugs' favorite) crops.  Planting straight rows of a single crop creates a bug paradise. If you were trying to provide bugs with as much food as possible, there's no more convenient way than straight rows containing only their favorite food.
But what if you could plant something nearby that you didn't care about but the bugs liked even more?  The bugs would leave your sweet corn alone*.  Or what if you planted something between your rows that bugs absolutely hated being near?  They would again leave your crop alone. By grouping plants that either attract or repel the bugs that prefer our favorite crops, the gardener may be able to avoid having to dump pesticides in the garden to salvage a crop.
A second way companion crops work is by chemical "trades".  Some crops fix nitrogen in the soil, others are heavy nitrogen miners.  They can help each other.  Some plants improve the flavor of others nearby.  Others simply fight over the same minerals and should be kept apart.
Companion plants can introduce smells and looks that can confuse harmful insects or that attract beneficial ones. The second best potato beetle is the one that can't find your potatoes. The best is the one eaten by the mantis that guards your potatoes.
So let's take a look at a few of the more popular companion planting combinations:
The Three Sisters: beans, corn, and squash.  Long used by the Maya, the idea behind the Three Sisters is simple: the corn grows straight up and provides support for the beans. The beans fix nitrogen used by the corn and the squash. The squash covers the ground and controls weeds.  The only problem I've ever had with this setup is controlling squash bugs. I'm still working on a way to manage them without using Sevin dust.
Basil and dill with tomatoes. Not only do these herbs make garden tomatoes taste even better, they can protect the plants from one of their main foes, the tomato hornworm.  The herbs can be grown in between tomato plants or, if you use the Lazy Man's Raised Beds, all around the outside of the tomatoes.  Just know that dill can grow four feet tall: if you grow it too thick, you'll have a hard time picking your tomatoes.
Lettuce and radishes among the melons.  These leafy crops grow fast and shallow, and will keep the ground covered while the slow and deep melon vines develop.  By the time the big melon leaves spread out, the faster plants are ready for harvest.
Garlic, horseradish, and especially marigolds planted thick around the garden can keep insect pests, and even rabbits and deer, at bay. Horseradish is a hardy perennial, marigolds are self-seeding annuals. So wherever you put them, plan on them being there a while.
There are literally hundreds of other combinations depending upon what you like to grow.  A good list can be found at InfoGalactic. There are also free (i.e. ad supported) companion planting apps available. All make great references when you're planning out which of your plants are going to be good neighbors, and which need to be moved for the good of everyone in the garden.
Finally, a word of caution: despite glowing internet recommendations**, companion planting is no universal cure for garden challenges. You may reduce your insect damage, but you will not eliminate it.  You may help your plants, but they may still be stunted by poor soil or lack of sunlight.  Companion planting is gravy on your Christmas turkey.  But you still have to make the turkey.
* This is called "trap cropping" and is probably a good subject for another post.
** Like this one, I suppose.