Egg Nog.
If you don't drink Egg Nog, you're a faggot.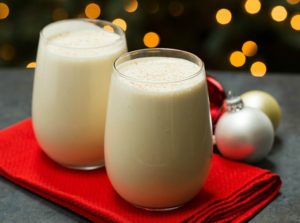 What You'll Need
6 large eggs, plus 2 yolks
1/2 cup, plus 2 Tablespoons sugar
1/4 teaspoon salt
4 cups whole milk
1/2 cup brandy, bourbon, or dark rum
1 Tablespoon vanilla extract
1/2 teaspoon grated nutmeg
1/4 cup heavy cream, whipped to soft peaks
Additional grated nutmeg for garnish
How to Make It
Combine eggs, egg yolks, sugar, and salt in a heavy 3- or 4-quart pan, whisking until well-combined. Continue whisking while pouring milk in a slow, steady stream until completely incorporated. Turn on the burner to lowest possible heat setting. Place pan on burner and stir mixture continuously until an it reaches 160 degrees F. and the mixture thickens enough to coat the back of a spoon. Be patient. This should take about 25 to 30 minutes.​
Strain mixture through a fine sieve into a large bowl to remove any accidental small cooked bits of egg. Add brandy, bourbon, or dark rum, plus vanilla extract, and nutmeg. Stir to combine. Pour into a glass pitcher, decanter, or container and cover with a lid or plastic wrap. Refrigerate this egg custard mixture to chill at least 4 hours or up to 3 days before finishing.
When ready to serve, pour heavy cream into a bowl and whip until it forms soft peaks. Fold whipped cream into cold custard mixture until combined.
Serve in chilled cups or glasses and garnish with a sprinkle of nutmeg.