A recent survey says you're too busy:
NEW YORK — How much free time do you get to enjoy each week? If you're like the most people, it's hardly enough to even be excited about. A new survey finds that the average American adult logs just four hours and 26 minutes of time to themselves in a given week.
And if that amount seems high, you're also in good company. Four out of 10 people surveyed said they get even less free time than that total, incredibly.
That's "incredibly" as in "unable to be believed". Because the assertion that people have so little free time is not true. While people's perceptions of how much free time they have says one thing, their actions say another:
Television Statistics
According to the A.C. Nielsen Co., the average American watches more than 4 hours of TV each day (or 28 hours/week, or 2 months of nonstop TV-watching per year). In a 65-year life, that person will have spent 9 years glued to the tube.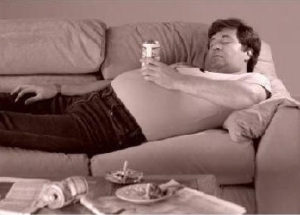 How can a person have only four hours of free time a week, and yet watch four hours of television every day? He can't. Most people watch television to avoid having free time, i.e. they seek distraction to avoid doing anything useful, including and maybe especially introspection.
Knock it off.  It's killing you physically, morally, and spiritually.
The physical is obvious. Sitting on a couch, usually snacking, for hours every day is bad for your body.  It's bad for your gut. It's bad for your heart. Inactivity is even bad for your joints. Get outside and mow the lawn. Start a garden. Dig a hole. Anything but sitting for hour after hour while your body turns to jelly.
The moral is just as obvious. Hollywood hates you and everything you stand for. You must work hard to find a single character on most shows that could even be redeemed into a decent person, much less a role model. What you are ingesting, without thinking about it, hour after tiresome hour, is the world's approach to life. You will begin to place value on what the world thinks is important. You are becoming conformed to this world (Rom 12:2).
The spiritual is perhaps less obvious even though it's the most important. Every hour you're flopped in front of the television is an hour that you could be in communication with the Lord. Every hour you stare mindlessly is an hour that you could be learning or teaching someone else, like your kids, about the Lord. It's an hour you could be doing something for or with your church family. An hour you could be doing what God put you on this earth to do. You're never going to get that hour back. You've burned it, it's gone. And for what eternal return?
This is why Paul told the Ephesians,
For this reason it says, "Awake, sleeper, And arise from the dead, And Christ will shine on you." Therefore be careful how you walk, not as unwise men but as wise, making the most of your time, because the days are evil."
— Eph 5:14-16
Awake, potato, and arise from the couch. God has given you only so much time in this world. Are you really going to spend the life He gave you staring at a box?