The press starts to discover  what everyone with a room temperature IQ discerned on Day 1:
Police are investigating an alternate theory* in the attack on Empire actor Jussie Smollett, and looking into whether it was "potentially staged," ABC Chicago reported Thursday.
"Multiple sources tell @ABC7Chicago Eyewitness News Jussie Smollet and the 2 men who are being questioned by police staged the attack – allegedly because his character was being written out of the show Empire," the network's reporter Rob Elgas tweeted.
The "setup" story is still at this point #FakeNews, based on anonymous sources and vociferously denied by all the right (left) people. But the trajectory of the story is not in doubt. We've come a long way from those heady days when Serious People™ breathlessly reported that two rednecks in MAGA hats, carrying bleach and rope around Chicago at 2am in -20f weather, recognized a black, gay actor and beat him up.**
Now the press is preparing us for the inevitable tearful press conference. It will be followed by the same Serious People™ explaining why the original story was fake-but-accurate. And blaming MAGA-hat wearing rednecks for initiating political violence that never happened.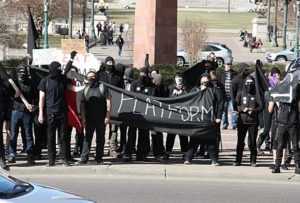 Lots of people on the left are blaming the right for violence that never happened. They want it to have happened so badly that they continually make up stories in which it has happened.
Part of the reason is that our current culture rewards victims, so victims it creates. Another part is that people are looking to justify their hatred and their frustration. Conflict sells advertising. And some people just want to be the center of attention.
The good news and the very bad news for those people is that it is going to happen. Serious political violence in America is coming.
One could argue, mostly correctly, that it is already here. When Antifa attacks MAGA hat wearing rednecks with bike chains at rallies, that's political violence. When MAGA hat wearing rednecks decide they've had enough, then will come serious political violence.
All republics go through it eventually. All multicultural empires go through it eventually. America has had its share over the course of its history, and it will have its share in the future. That's just where this road leads.
And while those who have done the most to exacerbate it will likely be those who suffer the most from it, we ought not celebrate its coming.
But we should be prepared for it.
* a week ago "alternate theory" was spelled "right wing conspiracy theory"
** Seriously, that was the story told. No, seriously.