The Ruger 10/22 is the gold standard for .22 rifles.
It's inexpensive, popular, rugged, and you can swap everything, and I mean everything. Want a titanium trigger group? Go for it. Heavy barrel for increased accuracy? Take your pick of manufactures. The design is simple and lends itself well to owners modifying the rifle with no more specialized tools than a screwdriver, a hex wrench, and some punches. The barrel is even easy to replace for a non-gunsmith.
Ruger has tried a magnum version that shot the .22 WMR cartridge, which had a decent run from 1996 to 2008. In 2004 they tried a .17 HMR version but that only had a two year production run.
The standard rifle has been in production since it was introduced in 1964.
Ruger hasn't rested on their laurels with the venerable 10/22. They've rolled all different variations over the years.
"The 10/22 is available in a wide variety of configurations. In 2015, the Ruger 10/22 came in 11 different models, not counting distributor exclusives. The Carbine came in 3 models, the Tactical, Takedown and Target each had 2 models, the Sporter and Compact each had 1 model. The discontinued 10/22 International model was fitted with a Mannlicher stock. Standard barrel lengths are 20″ in the 10/22 Rifle, 181⁄2" in the 10/22 Carbine, and 161⁄8" in the 10/22 Compact Rifle which is also fitted with a shorter stock. All .22 Long Rifle versions use an aluminum receiver, while the discontinued .22 Magnum version used a steel receiver with integral scope bases."
The 10/22 comes with its iconic 10 round rotary magazine, which fits flush with the rifle. It's a good magazine for being included with the rifle. But you'll want something else. Fortunately, you'll have plenty of choices, from a 25 round up to a 50 round drum. Midway USA offers a wide selection of magazines, as one example.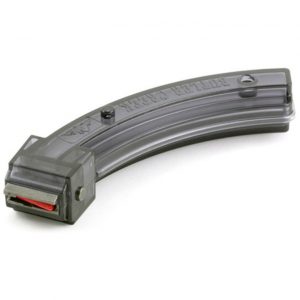 I've have luck with the Butler Creek steel lips banana magazine.
Ammo used to be cheaper than cheap. I'm kicking myself for not buying several tons of .22s. For a long time, they used to be rarer than hen's teeth, but I'm starting to see them in places like Cabela's and Scheels again, but nowhere near the pre-drought prices, sadly. Walmart is perpetually out around where I live. This is the biggest downside to the 10/22, or any .22 rimfire firearm, and it's not the fault of the 10/22.
This is a perfect plinking rifle. It makes a wonderful starting rifle for younger shooters. It's something, assuming you have the ammo, you can shoot all day and not care. It's great for small varmints. It's upgradable like crazy and works fine out of the box.
If you don't own a 10/22, you are doing yourself a disservice.