First, let me state that I am not a member of the Methodist Church and never have been. So I write this from the perspective of an outside observer. At the same time, we do have MOTW writers who are Methodist, and they may chime in with their own comments on this development, but it is good for me to be bringing this forward now, as they are all still delirious from the victory celebrations.


If you have not seen the reports, then let me declare unequivocally that the good guys just won a major battle against evil.
From the Fox News Report:
The second-largest Protestant denomination in the country is facing the prospect of mass defections and acts of defiance after delegates at a conference in St. Louis voted Tuesday to strengthen the United Methodist Church's bans on same-sex marriage and the ordination of LGBTQ clergy.
After three days of intense discussions at the General Conference Special Session, 56 percent of the 800 delegates in attendance voted in favor of a proposal by conservatives called Traditional Plan, which upholds the church's stance prohibiting LGBTQ members from being ordained and does not permit same-sex couples to be married.
You can follow the link for the whole article.  Yes, after a century (or more) of steady progression toward the leftist, satanic position of sinful behavior being accepted and lauded, a major Christian denomination has just drawn a line in the sand and proclaimed, "NO MORE!" It is long past time that someone stood up and did this, and our prayer is that more will be emboldened by the Methodists and begin to stand up for God, Truth, and Christ-like behavior.
Some observations:
To proclaim evil for what it truly is is not bad, but a requirement of the Christian Faith. The Methodists have proclaimed that same-sex marriage and a homosexual lifestyle are not compatible with Christianity. They are 100% correct.
It is not admirable to be inclusive to the point of diluting the Faith. Yes, all men are sinners. Yes, all men are called to follow Christ. Yes, God desires all to be saved. But God does not condone ignoring sin and allowing people to continue wallowing in their sinfulness, while proclaiming to be believers. Consider the words of the Apostle Paul in I Corinthians 5:
It is actually reported that there is sexual immorality among you, and of a kind that is not tolerated even among pagans, for a man has his father's wife.  And you are arrogant! Ought you not rather to mourn? Let him who has done this be removed from among you.
For though absent in body, I am present in spirit; and as if present, I have already pronounced judgment on the one who did such a thing.  When you are assembled in the name of the Lord Jesus and my spirit is present, with the power of our Lord Jesus,  you are to deliver this man to Satan for the destruction of the flesh, so that his spirit may be saved in the day of the Lord.
Those who choose to revel in their sin unabashedly are to be removed from the assembly. The Methodists are being magnanimous and will allow those who choose to do so to leave peaceably.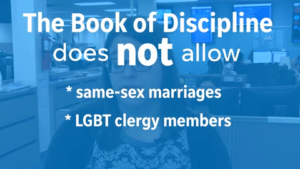 Following Paul's admonition, we can hope that these supporters of degeneracy will come to repentance, but if not, then they should simply be gone from the midst of the church. End of story.

So enjoy this one, boys. The good guys won a round in the ongoing battle against the enemy. The war is not over, and there are many more battles to be fought, but take heart in knowing that not only CAN we win, but we absolutely will emerge victorious.