This past weekend, Sen. Ted Cruz made the following comment:
"We are seeing tens of millions of dollars flooding into the state of Texas from liberals all over the country who desperately want to turn the state of Texas blue," Cruz said at a rally at a high school in Katy.
"They want us to be just like California, right down to tofu and silicon and dyed hair."
The Left is in an uproar over this. But, But, But, Texas has people that dye their hair, and there are both lots of computer companies and plastic surgery in Texas…. Yeah, folks, that is not the point.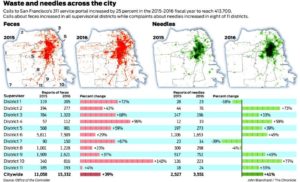 We do not want California in Texas or anywhere else. California is broken. It is a hot mess, and their problems need to say west of Arizona, not spread out.
What is Cruz really talking about? Stuff like this:
In San Francisco, people call the city's telephone hotline about 65 times a day to report piles of human feces on streets and sidewalks.

That adds up to 14,597 calls placed to 311 between January 1 and August 13…
Poop isn't the only problem, there are also major problems with old,  used needles littering the ground in the city. Look, Texas has homeless people, as well (every major city does), but there is no "Poop" or needle problem elsewhere. In fact, the group United States Common Sense wrote about the major problems facing California:
Note that those are not ALL the problems, but what this group claims are the 10 biggest ones.
No thanks, Cali. You can keep them.
I will side with Sen. Cruz here.
We want Western Society, not Californization.