https://www.amazon.com/Blade-Tech-Holster-Revolution-Appendix-available/dp/B00VIUVSV6
N.B.: We get nada from Blade-Tech.
I've been using this holster for several months now. For the price, it's fantastic. It's not going to win awards for being the most comfortable holster, so don't buy it thinking you won't feel it. You will, but not much.
I've tried it with a few different standard belts you can buy anywhere, and it works with anything I've tried. It's very lightweight, 8 oz., you don't notice the weight at the end of the day.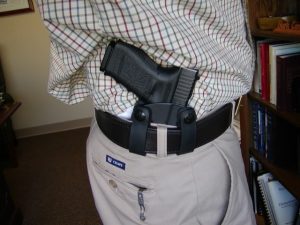 My Springfield locks into place. No matter what I've done, it's never fallen out. But, while practicing draws in front of the mirror ("You talkin' to me?"), it pulls out quickly with minimal resistance. It hasn't shown any wear or tear even after months of use.
You can buy better holsters, but not any I've seen at this price.
You may not get any bragging rights from this holster. You are going to get a rugged, durable, IWB holster that, should something happen to it, you won't be out any serious amounts of coin.
If you are looking for a decent IWB holster on a budget, I recommend you check out Blade-Tech.