By now, you have probably seen the reports about Hillary Clinton, at least when she was not falling down repeatedly, saying that women caused her to lose the 2016 Presidential election, because those poor women were pressured by their husbans, fathers, and other men to vote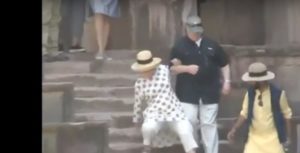 against her. Really. If you missed it, you can read it here.
Of course, that caused an uproar, and so she is now trying to take it back. Rather than just admitting that she was wrong, however, she tries her regular Clinton-esque spin on the whole thing.  Yeah, we "misinterpreted" her words.
Here, you can read the direct quote yourself:
"We do not do well with white men and we don't do well with married, white women," Clinton said at a conference in Mumbai, India. "And part of that is an identification with the Republican Party, and a sort of ongoing pressure to vote the way that your husband, your boss, your son, whoever, believes you should."
Not hard to interpet that. But really, she hits on something important. And it undercuts everything she stands for. The actual content of her whining and reaction to the response is irrelevant. In her apology, she states:
"As much as I hate the possibility, and hate saying it, it's not that crazy when you think about our ongoing struggle to reach gender balance – even within the same household."
Yeah, there it is: gender balance, or as more intelligent people used to call it, "the battle of the sexes."
Now here is where things get interesting. She decries the patriarchy. She says that men influence women on how to vote, and even when trying to walk back on her comments still claims that her original comments were not crazy. And you know what? In a sense, she is correct.
But where she sees damage and fault, Men of the West will see health and truth.
Hillary wants women to vote. She wants them to have the same rights as men (or at least this is what she says, anyway). But then she turns around and basically admits that women are not competent voters.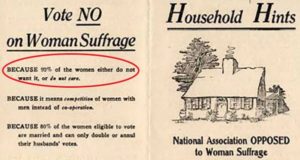 We do not let young children vote. They are not old enough to understand what is going on in the world. They are not yet wise enough to make an informed decision. If, in some hypothetical world, 7-year olds could vote, they would do one of three things: vote the way their parents told them, vote the exact opposite of what their parents instructed, or vote randomly. So, rather than give their parents "extra" votes and/or cause chaos, children are excluded from the ballot box.
What Hillary has said is the exact same thing in relation to women. She has just admitted that women are not able to make up their own minds. They must rely on their menfolk to make those decisions for them. Hey, tell me I am wrong. That is exactly what she said.
So what is it, Hillary? Are women competent to vote? If so, then what are you complaining about? If not, then why do they have the vote in the first place?
Maybe it is time to consider an alternative, a way that has worked in the past, much better than the nonsense we see today. In fact, here at Men of the West, we addressed this very topic 15 months ago. What I wrote then is still true. Egalitarianism is a Demonic lie, and the sooner we dispense with it, the better.
We all owe Hillary a hearty "Thank You" for reminding us.