William Alexander Anderson "Bigfoot" Wallace was born in Virginia in 1817, where he remained until 1836, when he learned that his brother, who had gone to Texas, had been killed in the Goliad massacre. A descendent of Scottish Highlanders (including William Wallace and Robert The Bruce), he was clannish and took it upon himself to "take pay out of the Mexicans," to atone for his brother's death. So he went to Texas.
He stood 6'2″ and weighed 240 lbs. in his prime, and devoted himself to his task. In his later years, he proclaimed that he figured the account had been settled. Of course, by the time he arrived in Texas, the war with Mexico was over, so he he worked at farming for a bit, but did not find it suitable.
Now, since the war was over, how did he settle with those who had killed his brother? When the Mexican army invaded Texas in 1842, Wallace was one of the first to volunteer to repell the attack.
Wallace fought at the battles of Salado Creek, Battle of Hondo River, and Mier. Some of his most graphic memories were of his experiences in Perote Prison after having survived the Black Bean Incident. Wallace later participated in the Mexican-American War at the Battle of Monterrey and then later in the Comanche Wars.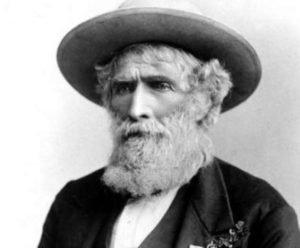 It was during the Mexican-American war that he first served with the Texas Rangers, under John Coffee (Jack) Hays. In the 1850s, Wallace commanded, as captain, a ranger company of his own, fighting border bandits as well as Indians. He was so expert at trailing that he was frequently called upon to track down runaway slaves trying to get to Mexico. He drove a mail hack from San Antonio to El Paso and on one occasion, after losing his mules to Indians, walked to El Paso and ate twenty-seven eggs at the first Mexican house he came to, before going on to town for a full meal. During the Civil War he helped guard the frontier against the Comanche Indians.
The later years of his life were spent in South Texas in the vicinity of a small village named Bigfoot. He never married. He was a mellow and convivial soul who liked to sit in a roomy rawhide-bottomed chair in the shade of his shanty and tell over the stories of his career. Wallace was personally honest but liked to stretch the blanket and embroider his stories. He read and was no illiterate frontiersman, but he summed up in himself all the frontiers of the Southwest. His picturesqueness, humor, vitality, and representativeness of old-timy free days, free ways, and free land have broken down the literalness of every writer who has treated of him. Without directing events, he was there when they happened-and he was a tale-teller.
Wallace died on January 7, 1899.