Marxism requires complete commitment to the eradication of the past. If anything remains, the entire structure is at risk.
Take "workers own the means of production". This only makes sense of you ignore the past and the effort and risk it took to create the business in the first place.
If you remember a time before the factory exists, you might remember the Marxists did jack squat to create and grow the business. If you do that, you might realize they are nothing more than parasites playacting as human beings.
Can't have that. So you didn't build anything, nothing existed before the Government willed it into being.
Wipe out the heroes and major actors of the past and claim only your side did anything of worth.
Orwell was right, control the past and you have control over the future.
Lest you think I'm overstating the problem:
"New Orleans is tearing down its Confederate monuments, but the South has plenty of others"
Look at that title. The whole purpose is to eradicate the South's identity. A people without a past cease to be a people. The Marxist can put in their own statues and claim only Marxist heroes have done anything.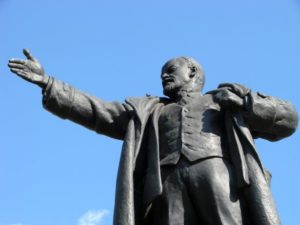 It's already starting. As real American historical figures are pulled down, the Marxists are defending a Lenin statue.
"Sure, Lenin the Man endorsed the use of mass terror against his enemies, created the Soviet Union's secret police, and implemented policies that caused millions of peasant farmers to starve to death. But Lenin the Public Artwork is a beautifully crafted sculpture, and a catalyst for healthy discourse."
Got that, plebes? One of the greatest murders of all time, his statue is a catalyst for healthy discourse.
Your heroes of the South, men that gave their all for their kinsmen and people, well, they backed the wrong horse. Into the dustbin for them, scrub them out of the public eye, strike them from the history books for wrongthink.
After all, only Socialists defended freedoms, and soon, theirs will be the only history left.