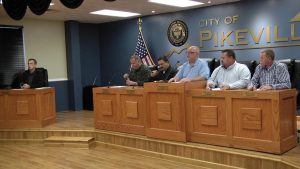 In response to Antifa threats of violence at an upcoming rally, the Pikeville City Commission has passed an emergency ordinance to demask Antifa agitators within the city limits:
"Because of the rally and because of a lot of social media wording, reports and rumors out there and also there are now counter protest groups that are coming in looking at the possibility of inciting a riot or violence and to disguise their identity. So for the benefit of public welfare and safety the Commission elected to pass a model ordinance tonight that would prohibit somebody from wearing a mask or a hood in downtown or in the city of Pikeville within certain boundaries."
The ordinance is similar to the "no masks, no hoodies" rule used by Auburn police last week to inhibit Antifa strike-and-hide behavior. Expect right-thinking municipalities across the country to enact similar measures to disrupt and discourage the Antifa lunatics before they arrive.