Saturday, November 4th 2017 was supposed to kickoff a new revolution in America. The organization, Refuse Fascism which was formed shortly after Donald Trump was elected had the stated goal of "Ending the Trump/Pence Regime." The organization is an offshoot of the Revolutionary Communist Party, USA (RevCom). Many of their participants are probably ignorant of this fact. I've seen many people on Twitter claim that being Antifascist doesn't have anything to do with Communism. Well, they're wrong. Their revolution was stillborn.
Disappointingly, there were no commies punched, nor any flags or pizza stolen this time. In Austin, we had them outnumbered 10 to 1. More on that shortly.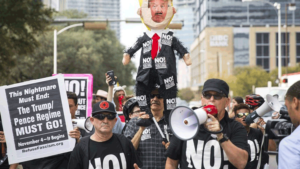 This was supposed to be their day. This was supposed to be the kickoff of a new political revolution in America. The day that was the beginning of the end of the Trump/Pence regime. It ended where it began. "Crushing humiliation" is the only way I can describe the whole affair. Not only in Austin, but in city after city, they had much lower turnout than anyone could have expected. As near as I can tell, Trump & Pence have not abdicated their positions nor given any indication they're about to.
The organization must have spent millions of dollars over the last several months promoting this event. Last week, they took out a full page ad in the New York Times; we know that couldn't have been cheap. They paid organizers in many cities. They had shirts and flyers and signs printed. Not just paper signs either, but tons of vinyl signs. Who paid for all of this? Their money masters must be really pissed off!
Men of the West was in Austin for the festivities. On the Refuse Fascism side, there were about 25 of them (that's being generous). Among there numbers were a Low-T male dressed as a unicorn carrying a Nerf battle ax, a very angry black woman reading from a prepared script in the most angry manner possible, and old lady with a cardboard sign that said Trump was un-elected and smattering of other people that would have looked more at home babbling to themselves, and pulling a shopping cart. They had a poorly made paper-mache Trump effigy too. Who didn't show up? The usual violent factions, Red Guards Austin, an avowed Communist group, nor did the Antifa troublemakers dare show their faces. Red Guards made some long winded excuses as to why they weren't there. But they had scouts out there reporting back that they would have been seriously outnumbered so they didn't show their faces. So there were no flags to steal, masks to tear off or pizza to seize.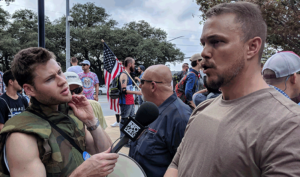 We had patriots. We had at least 250 people on our side. We had patriot groups fully kitted out in vests and open carrying rifles. Coordinating with the Patriot groups was Ivan Throne from the Safe Streets Project. Here we have Ivan Throne being interviewed by Owen Shroyer from Info Wars. Recently, Ivan throne and his associate Mr. Swift provided Ground Dominance training for some of the patriots that were there on Saturday. We showed up. We showed up in huge numbers. We dominated the ground. This event was a victory for Austin, for Texas and for the entire country. We've broken and humiliated them in Austin and other places around the country.
We must continue to show up and make sure the people bankrolling these events don't get a return on investment. We don't have rich donors like George Soros giving us money to protest. We have jobs and families and responsibilities that we must take time away from in order to counter this nonsense. But we do it because it needs to be done. I can't tell you how many times I was told "It's a trap! Don't go." Or, "You're playing right in to their hands, stay home!" It wasn't a trap, we didn't play in to their hands and we absolutely crushed them on Saturday. So no more excuses; next time you're called, you go.