Last year, I wrote an article about The Muslim Question.
I followed it up three months later, with More On The Muslim Question.
Due to comments on those posts, I quickly responded with Why We Have Law.
No sooner had that post had time to settle, then more world events prompted The Muslim Tipping Point.
A few weeks later, The Founding Fathers On Islam followed, to address the contemptible concept of forced tolerance.
So over five months, I posted no less than five full articles that addressed the danger of  having Muslims in our midst.
Now, certainly, there are plenty of important issues out there, and some of them are related, directly or indirectly, to having Muslims living amongst us. At the same time, many important issues lie elsewhere, and it is easy to forget about the Muslim problem we face.
But consider this:
OK, I found those all in a five minute search. This is a small sample. Even if this was all that had taken place over the past year, it would be more than enough for the West to change its policies toward allowing Muslims to enter its lands. This is only a very small tip on an extremely large iceberg.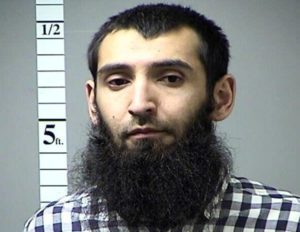 On Halloween 2017, Americans saw Islamic terror up close and personally (again), as another Muslim terrorist slammed a vehicle into pedestrians in New York City. As of this writing, at least 8 people are dead, with 11 more injured.  This is reminiscent of the same sorts of attacks that have taken place in Europe, especially France over the past couple of years. It continues the demonic Muslim strategy of attacking innocent people, such as happened at a concert in Manchester last spring.
So really, folks. When is enough, enough? When do we let our elected officials know, in no uncertain terms, that we have no desire for Muslims to live in the United States, or anywhere else in the West, and force them to enact policies to rid us of this vermin?
Here is the reality: if the government will not do something to relieve the pressure that is building, then the people will.
Understand me clearly. I am not calling for folks to rise up and kill Muslims. I am simply saying that if Muslims continue to live amongst us, and continue to commit the atrocities, then the time is coming quickly, when the people will not give a tinker's damn what the government wants. They will not bother to check with the local authorities. They will take the law into their own hands, and it will not be pretty.
There is no doubt that removing Muslims will solve this problem. Just look at this map, which shows Muslim attacks in Europe. Notice the country that is free of dots? Poland. The country who refuses to accept Muslim migrants. As Vox Day has repeatedly stated, Diversity+Proximity=War. Remove them, and the tension is relieved.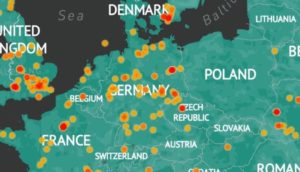 What kind of man would invite a known pedophile into his home on a permanent basis? Why would we entrust the care of our children to people we know mean them harm? It would be criminal negligence.
So I am calling for the immediate repatriation of Muslims. They need to go home. That has been a constant theme in my aforementioned articles. If the government will not make this happen, they are forcing the situation to boil over. Muslims will be removed one way or another, whether some folks like it or not. The only question that remains is whether there will be blood running in the streets or not.
The end result is determined. The path to get there is not.
Regardless, enough is enough.