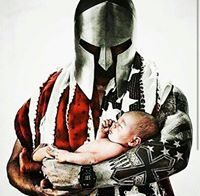 It's been more than half a year since we started the Beast Life series. We have pretty much covered the gamut of exercises. And today I'm asking, "where are you? What have you done to get stronger and healthier?" I know some of you have taken stock of your life and found it lacking in what matters. You've starting living your Beast Life now. I'd love to hear about your journey in the comments section.
Others? Not so much.
Maybe you started and quit. Maybe you never started. All I hear are excuses. Because you're weak, and you're letting your weakness define your life.
What are your excuses? Your back hurts? Go see a chiropractor and do squats and deadlifts. You're too busy? Bullshit, you just think TV and Facebook merit a few hours of your day, while getting healthy and strong merits none.
Man's body isn't designed to sit on the couch eating potato chips. It's designed to walk 50 miles hunting Sabretooth Tigers. Our Lord cursed us to spend our days under labor and sweat, but we have traded the farm for the cubicle. And yet your life is still directly tied to how much you labor and sweat. It is a Christian virtue to submit to the discipline of our God, and later thank him for training our hands for war.
When you're 56 and suffering a mild heart attack is not the time to get started. When you're out with your wife, and three savages start following you down the street, is not the time to get motivated to get stronger.
We are going to continue the Beast Life series by going over everything again, and again, and again. My hope is that you get on board before you find yourself needing it.