"When I was a child, I spoke like a child, I thought like a child, I reasoned like a child. When I became a man, I gave up childish ways."
A Man of the West should dress like a man.
Over the next month, I will help you start doing that.
You don't need to spend a lot of money to dress like a man. You don't need to wear suits every day to dress like a man. You don't need to wear uncomfortable clothes to dress like a man. You should wear clothes that fit well and enhance your appearance.
This guide is for a business casual environment–if you follow my recommendations, you will look better and feel better at the office, at church, and around town.
The first week in this series addresses an area that most men think very little about–shoes. This is your opportunity to up your game with very little effort and separate yourself from everyone else at your office.
The first step in dressing like a man is wearing leather shoes to the office. Keep the tennis shoes and sandals at home.
You should have at least two pairs of dress shoes so that you can alternate–this is not about wearing something different as much as it is about making your shoes last longer. You should generally give your shoes a full day in between wears so that the leather recovers.
Here are three suggestions–pick two of them (or all three) and you'll be set. While these are not going to be shoes that last for ten years, they are without a doubt the highest quality shoes at their price point and probably an upgrade over what you're currently wearing to work.


This wingtip is from the JC Penny Stafford house brand. It only comes in the light brown shown above.
I've owned this shoe for two years and worn it at least once a week–it's held up remarkably well for the price.
As with almost every item in these guides, ignore the MSRP–retail stores are constantly having sales. This shoe is frequently available under $60 or lower–several times down around $40. It's a great deal if you get it for $60 or less.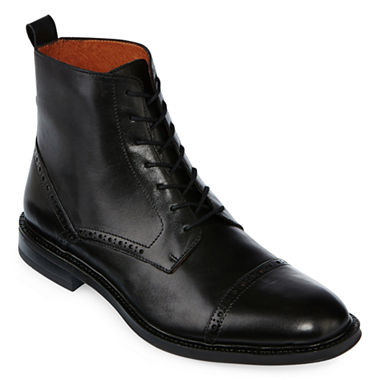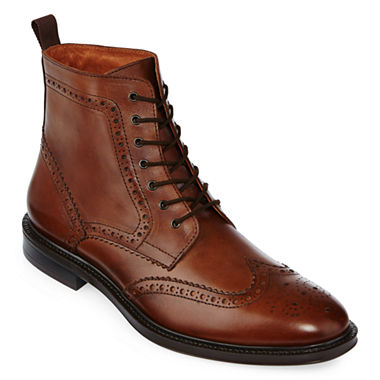 Dress boots work incredibly well for business casual, and are more versatile than dress shoes. Both boots are available in black and light brown. My suggestion is to get the captoe boot in black and the wingtip boot in brown–this gives you a more formal pair of black shoes than you can wear to somber events like a funeral. I recently acquired a pair of each and they are very comfortable out of the box.
Like the dress shoe, you can regularly find them on sale for $60 or less. They're a great value at that price.
All three shoes featured can be worn with jeans, chinos, wool trousers, or even a suit. Just remember to buy at least two of them, alternate wears, clean and polish them regularly, and you won't have to worry about shoes for several years.
For more in-depth reviews of these shoes:
https://dappered.com/2014/06/in-review-the-jc-penney-stafford-logan-wingtip/
https://dappered.com/2014/09/in-review-the-jc-penney-stafford-deacon-gunner-boot/