We here at Men of the West are a pretty close group. All of the regular authors, editors, admins, and even many of the commenters, are actually good friends in real life. However, like any group, there are few things that we all agree upon. Over the years, we have had some epic "in-house" debates/arguments over various topics.
One thing about which every single one of us agrees is that Rolf Nelson's books are fantastic.
His The Stars Came Back  is one of the finest stories ever written. Yes, it is written in screenplay format, but that does not matter. It takes a couple of pages to get used to it, and then – BOOM. You are whisked away into one of the most intriguing sci-fi stories penned in the past 50 years.
He followed that up with a prequel of sorts, The Heretics of St. Possenti, which is less sci-fi, and more foundational to the overall world that these stories inhabit. Though not really a sci-fi book, it is fantastic, and should be read by everyone.
You can read my review of Heretics, with some thoughts on The Stars, as well, here.
You can read Lector's interview with Rolf here.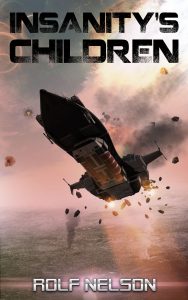 So imagine our joy when we found that he has recently put up the true sequel to The Stars Came Back at Amazon. Yes, we are happy to fully endorse Nelson's latest: Insanity's Children. 
This is the next adventure of everyone's favorite starship, captain and crew – and well, the whole group of folks from the original story. Some readers (ok, most readers) will be happy to know that this new book is written as a traditional novel, rather than a screenplay, but it picks right up where The Stars Came Back stopped.
We do not want to give anything away, but know that the book is worth your time and money. Trust me. This is a fantastic story that takes the original narrative and carries it forward. You will not be disappointed.
BTW, he has another novel, set in the same universe, that provides some back story for one of the other important characters in these works. Note: I have not yet read this one, but it is next on the list. While you  are picking up Insanity's Children, go ahead and get Komenagen: Slog while you are at it.
Rolf Nelson is one of the best sci-fi minds out there these days. If you have not read his books, then you are missing out on some of the best story-telling this side of Faulkner. Seriously, go get Insanity's Children, and any of these others that you are lacking. We have never met anyone who was disappointed in being drawn into this world.
You can also see Rolf's Announcement at his own site, regarding the book release and some explanation of the others. Also, he discusses the group being formed, based upon The Heretics of St. Possenti. That might be of interest to some of you.