The ALICE (all-purpose lightweight individual carrying equipment) rucksack is one of the best inventions of the US Armed Forces. Introduced to the Army in 1973, it was the standard until the MOLLE replaced it.
The entire ALICE system includes more than just the ruck. See here for more information. I'm just focusing on the ruck and frame for now.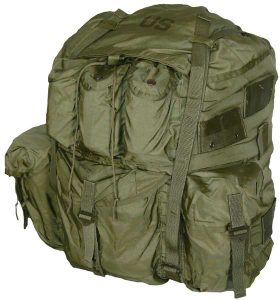 The design is simple and comes in two sizes: medium or large. There's a main compartment with an internal pocket and three main external pockets. The large has three more external pockets.  

The ALICE doesn't have zippers or velcro, just straps. This means you can stuff it with gear and not worry about breaking a zipper. The material is tough and mildew-resistant. This is important because gear not used often can develop mildew. The ruck can be used without the external frame if needed. The external frame is metal and can be used to hang more gear you may need quicker access to, like a canteen, or even repurposed without the rucksack.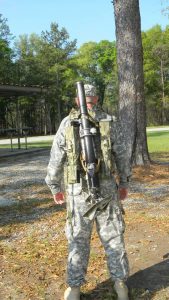 Without the ruck, the frame can be used to haul anything you can strap to it.

Featured in the photo you see a soldier with an Alice frame refitted to haul a mortar system.

If you get a used one, make sure it comes with the kidney belt or get one ASAP. You'll thank me.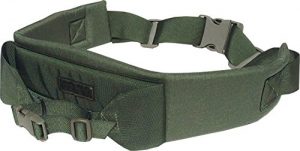 Pros: Tough, durable, can find them for a fraction of the cost of other rucks. Because it's been replaced with the MOLLE, you can find this awesome ruck for cheap in military surplus stores.
Cons: The straps aren't meant for quick release. It's big and bulky. There's no way to go Gray Man with one of these because of the distinctive design and the colors are either camo or OD.
I've had mine for a few years and have had no complaints. Gear goes in, stays where I put it, and I can hike with the ruck and not worry about it.
If you don't already have a ruck, or want an inexpensive backup, I recommend the ALICE.