You are getting laid off. Those are words no one wants to hear. Your job, for one reason or another, is going away. It could be that that you are simply shown the door, or you are given some time before it ends. In my case, I've been given thirty days, and a severance package. So I know I'm lucky on that instance and not everyone is so fortunate.
It's a tough thing to not be able to provide, and it's something that can affect us men deeply. Providing for our families is just innate and a deeply seated need, a part of our psyche, and this loss can really send men into a downward spiral. Depression, uncertainty, and even fear of the future are common, and to some degree, expected.
To combat this, I suggest three things. First off, a faith in God. He knows what you are going through, and He provides. Place your trust in Him. The Bible reminds us several times that God knows when even a sparrow dies, and that we have much greater value. I also like this passage, as it reminds us that He does indeed provide, and not to worry.
Mat 6:28-34: And why do you worry about clothes? See how the flowers of the field grow. They do not labor or spin. Yet I tell you that not even Solomon in all his splendor was dressed like one of these. If that is how God clothes the grass of the field, which is here today and tomorrow is thrown into the fire, will he not much more clothe you—you of little faith? So do not worry, saying, 'What shall we eat?' or 'What shall we drink?' or 'What shall we wear?' For the pagans run after all these things, and your heavenly Father knows that you need them. But seek first his kingdom and his righteousness, and all these things will be given to you as well. Therefore do not worry about tomorrow, for tomorrow will worry about itself. Each day has enough trouble of its own.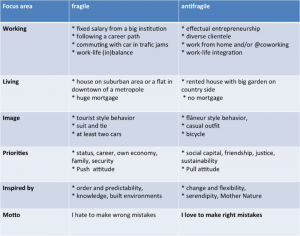 My second suggestion is to become anti-fragile. For those who are new to the concept, fragility is when all of your eggs are in a single basket. For instance, when all your income comes from a single job. The fact that your single job could go away in an instant, even through no fault or action of your own, makes you fragile. This is a scary place to be, as anyone who has suddenly lost a job knows well. Because you were fragile, you now face an uncertain future where everything depends upon you quickly getting a similar job with similar pay. If you don't get it quickly, your savings and credit will quickly run out.
But if you have multiple income streams, then while the loss of a single income may be a big blow, it doesn't need to destroy what you have worked so hard to build. So put in the footwork to become anti-fragile. Find another way to bring in additional income. There are plenty of ways to do this, and it's limited only by your imagination and talent. Ebay and Amazon are popular ways to sell or resell products. Etsy is a market place specifically for handmade or vintage goods. Perhaps you have a hobby, making things which you might be able to monetize. Personally, I have fallen back on pizza delivery numerous times for extra income. Find something. Anything.  The simple presence of an alternate income stream is of great comfort at a time like this.
Thirdly, and this one is far too late once you've been laid off, but start paying off bills and reduce what you pay out each month on things that don't matter. The less money that has to go out each month, the easier it will be to survive between primary jobs. If you have rent/mortgage, two car payments, insurance, phones, student loans, utilities, and cable, you could easily be out $4,000 a month, before you even get to things like food. Get those loans paid off, reduce your cable bill, lower your phone plan if possible. $500 a week could cover you, if you have no other bills beyond housing and utilities, and that's not that hard to get. It also makes that alternate income stream a possible primary income stream.
If you aren't already affected with job loss, start with steps 1 & 3. If you are currently affected by a job loss, start with 1 & 2, but also make sure to reduce those unnecessary expenses like phone and cable. You will pull through. It may take some time, but you will. Just keep at it.